This is something that Finnish authorities/law never allows for, the publishing of the names of these perps who commit atrocious crimes, especially if they're not ethnic Finns. I just reported a few days ago of the Somalis who lured a girl into a small wooded area near a train station, then took turns forcing her to give them oral sex. If not for a Finns party MP, Teuvo Hakkarainen, the rape case wouldn't have been publicized not the names of the convicted.
Here's the latest on Pakistanis raping and pillaging in the UK.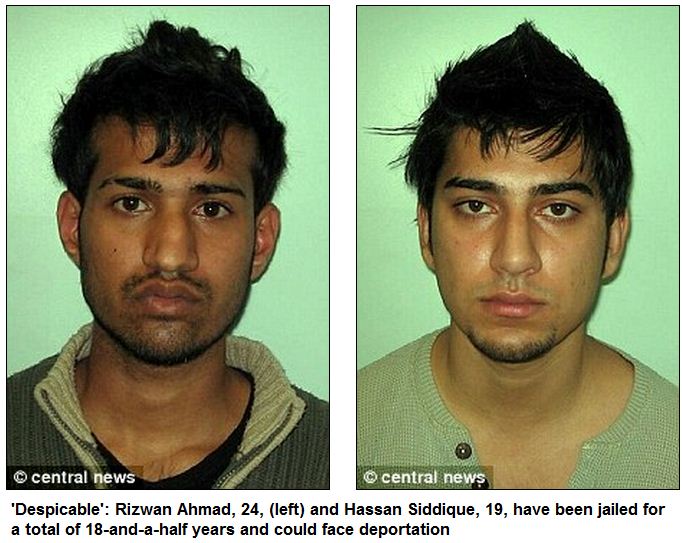 Pakistani students raped woman, 20, after she fell asleep on night bus on way home from night out
Pair told victim they would call her a taxi after she missed her stop, then lured her down an alleyway


Rizwan Ahmad and Hassan Siddique jailed for a total of 18-and-a-half years and told they could be deported
By LYLE BRENNAN
PUBLISHED: 11:02 GMT, 23 April 2012 | UPDATED: 15:09 GMT, 23 April 2012
Two 'despicable' sex predators who raped a woman after she fell asleep on a night bus have been jailed for a total of 18-and-a-half years.
Pakistani students Rizwan Ahmad, 24, and Hassan Siddique, 19, targeted the 20-year-old as she made her way home from a night out in central London.
Snaresbrook Crown Court heard how Siddique got off the number 55 bus while Ahmad began chatting to the woman when she realised she had missed her stop.
Ahmad persuaded her to get off at the next stop and said he would call her a taxi. He then phoned Siddique, a student at the London College of Business Management and Information Technology, to summon him to the scene.
The two men lured their victim down a secluded alleyway off Leabridge Road in Leyton, east London, and took turns to rape her in the early hours of June 4 last year.
During their trial Ahmad and Siddique insisted their victim had encouraged them, but the jury found both defendants guilty of rape and attempted rape.
Judge Tudor Owen said he believed the pair should be kicked out of Britain once they have served their jail terms, adding: 'The sooner you are deported from this country, the better.'
In an impact statement the victim said the attack will 'stay with her for the rest of her life'.

But she is determined to ensure her ordeal does not dictate her future.
Sentencing, Judge Owen told the two rapists: 'What you did was despicable. Your story was simply ludicrous.

'You claimed she instigated the whole thing, that it was she who wanted to engage in sexual activity with you.

'Unsurprisingly, the jury rejected your account.
 H/T: Gaia