Finnish justice system and media in meltdown.
Vasarahammer: The names, addresses and social security numbers of the two perps have been circulating the internet for some time. The two rapists were returning home from Quran school when they committed their disgusting act, but this was not mentioned in any of the Finnish MSM articles.
In 2010, two Somali Muslims, a 16yr old and 17yr old, enticed a 15 year old girl at the Malminkartano train station (in Helsinki) to a nearby grove of trees where they forced her to have oral sex with them. They took turns holding her and ejaculating into her mouth.
Someone got their hands on of the HELSINKI DISTRICT COURT JUDGMENT No. 3338 from April 4th, 2012 and published it on Pastebin.
What makes this all the more astounding is that the girl in question demanded that their crimes be made public, but the authorities refused. They deem the rights of these two criminals to be of such high value, that (a.) they were not sentenced to prison an (b) they were allowed to be given anonymity, thereby the people hadn't at the time the slightest clue of who committed these heinous crimes.
NOTE: Here's a screen shot of what's already on the Finnish internet. Also as Reinoblog, there is a screenshot of a FB page in support of the rapists that taunt the poor girl who was raped.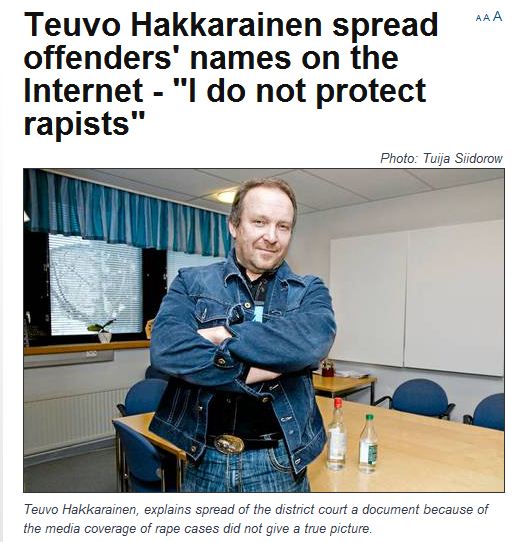 Iltalehti: Hakkarainen has linked his Facebook page to the ruling of the Helsinki District Court in relation to the Iltalehti's report of the rape case this week . Two were convicted and probational sentences for the 15-year-old girl's rape. One of the convicted was a minor. Both have a foreign name.
A legal expert interviewed by the The Keskisuomalainen (Central Finnish newspaper)  said that the dissemination of the names of the convicted may be illegal, the spreading of private insulting information or personal information of breaking the law. The criminality is still unclear.