"that people could understand better what Hamas really is."
You mean like this?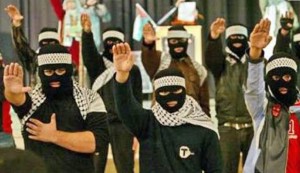 I guarantee that this exhibition was nothing more than an open attempt at mainstreaming this group of homicidal maniacs into ME democrats. After France votes in the hard core socialists, expect this to become a regular occurring theme.
Pro-Hamas exhibit in France held despite protests
By JOSEPH STRICH JERUSALEM POST CORRESPONDENT
04/18/2012 02:01
Photo exhibition opens in French city of Angoulême despite strong protests from the country's Jewish leaders.
PARIS – A photo exhibition sympathetic to Hamas opened in the western French city of Angoulême last Tuesday, despite strong protests from the country's Jewish leaders.
The exhibition by French photographer Frédéric Soutereau is being held within a photography festival in the Charente region of France.
The town hall of Angoulême has lent the organizers a room at the Hotel Saint-Simon in the city. Eighty-eight photographs, in large format, will stay on the walls for the rest of the exhibition, which is due to close on April 21, the eve of the first round of the presidential election.
The controversial photos have already been exhibited and praised at a previous photojournalism festival in the southern French city of Perpignan in 2010.
The exhibition runs during the cultural Palestinian Fortnight event organized by the Charente Palestine Solidarity Association.
In response to Jewish protests over the exhibit, which has been accused of glorifying the terrorist organization, an organizer of the exhibition announced to the press on the day of the opening that the association had decided to go ahead with it.
Jean-Claude Caraire told AFP that the exhibit was "at the heart of the cultural Palestinian Fortnight" in order "that people could understand better what Hamas really is."