I say spike some football.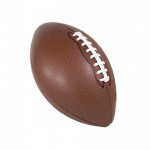 Flytilla Fails to Take Off
It was meant to be a Palestinian PR dream. Over 2,000 activists scheduled to converge on Israel's Ben-Gurion Airport, arriving on planes from around the world as part of a "Welcome to Palestine" flytilla.
Israel had done its homework, however. No-fly lists of potential activists sent to airlines prevented many from even boarding their flights at the point of departure. What could have been a major international incident turned from a flytilla into a floptilla, the lack of action described by The Times of Israel reporting from Ben-Gurion Airport:
But by mid-morning, nothing much was happening. Nothing had been happening for quite some time, reported an Associated Press TV cameraman in the arrivals hall who had replaced another cameraman who had watched nothing happen for most of the night. …
There were no fewer than 13 TV cameras and about 30 journalists around the terminal, bored and standing around in clumps. Anyone expecting Tahrir Square was presented instead with "Waiting for Godot."
Indeed, the story barely registered on the radars of the US press, probably due to the fact that the majority of the activists were Europeans.