AKI KAURISMÄKI, A SANCTIMONIUS PIECE OF CRAP

I call on Finnish authorities to place an arrest warrant on the socialist terrorist and Finnish film director, Aki Kaurismäki, for advocating the mass killing of politicians and civilians. Aki Kaurismäki should be apprehended, found guilty, and sentenced.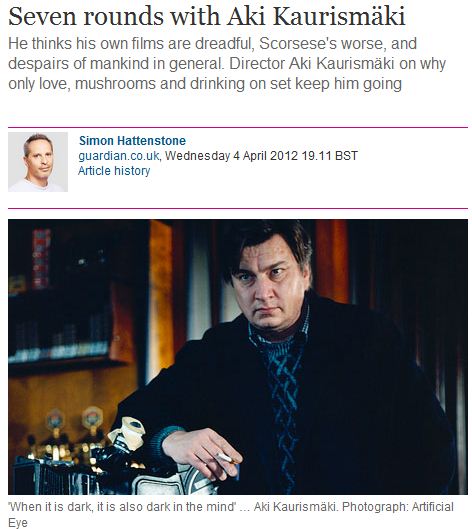 Here is what he said about the wealthy and politicians:
"Kaurismäki continues to smoke in the near dark, waiting for the inevitable tap on the shoulder while telling me about his solution to life's iniquities. This is a philosophy which might have been co-authored by Samuel Beckett and Osama bin Laden. "For mankind, I can't see any way out," he says in his deadly monotone, "except terrorism. We kill the 1%." Which 1%? "The only way for mankind to get out of this misery is to kill the 1% who own everything. The 1% who have put us in the position where humanity has no value. The rich. And the politicians who are the puppies of the rich."
H/T Kumitonttu
NOTE: The whole notion that "the wealthy own everything" is such a bogus argument, only morons believe people sit on their piles of money like Uncle Scrooge in the Walt Diseny, Donald Duck comic book series. Wealth is put to use in banks and investment houses to create more wealth…. which benefits society, it's entirely irrelevant how much wealth a person has. Only zero sum socialist douchebags like Kaurismäki believe that one person's wealth comes at the expense of the other.
Please do note that Kaurismäki actually makes up the 0.000001% of society that holds such extremist views, as well as amassing personal wealth of his own. Does this mean Kaurismäki plans to lead by example and off himself?