Say what you will about the man's politics, but doing what he did, Clooney served the public good by bringing the issue of the Sudanese genocide against the southern non-muslims to the forefront of public attention. Ayn Rand once wrote:
Civil disobedience may be justifiable, in some cases, when and if an individual disobeys a law in order to bring an issue to court, as a test case. Such an action involves respect for legality and a protest directed only at a particular law which the individual seeks an opportunity to prove to be unjust. The same is true of a group of individuals when and if the risks involved are their own.
In spite of Clooeny not mentioning the chief cause of the Sudanese attacks of jihad against the South, Islam, he does deserve some credit here. Well done.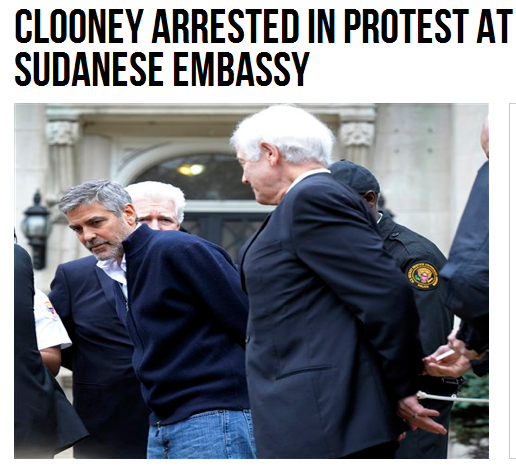 Clooney arrested in protest at Sudanese Embassy
By BRETT ZONGKER
Associated Press
WASHINGTON
Actor George Clooney and his father have been arrested at a protest outside the Sudanese Embassy in Washington.
The protesters accuse Sudan's president, Omar al-Bashir, of provoking a humanitarian crisis and blocking food and aid from entering the Nuba Mountains in the county's border region with South Sudan.
Clooney, his father, Nick and others, including Democratic U.S. Rep. Jim Moran of Virginia and NAACP President Ben Jealous, were arrested after being warned three times not to cross a police line outside the embassy. They were handcuffed and placed into a U.S. Secret Service van.
Clooney said earlier that he hopes to draw more attention to the issue and that if action is not taken in the next three to four months "we're going to have a real humanitarian disaster."