It could have ended up like this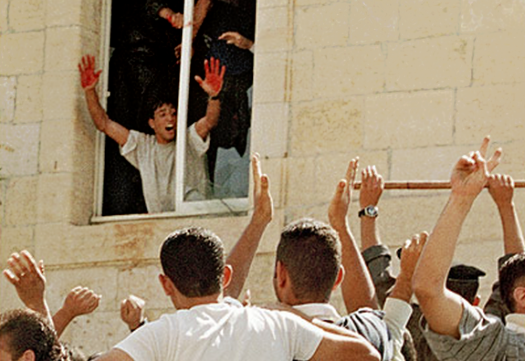 These are the 'fifth column' Arabs that Israelis have to worry about all of the time. Look at the head of the soldier in the picture, you can clearly see that something was carved into his skull.
'I felt they wanted to murder me'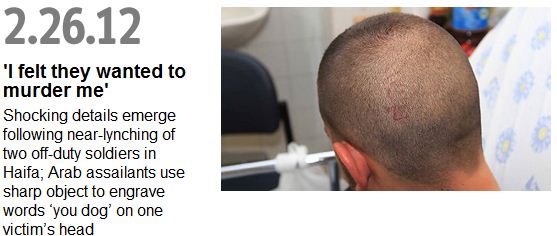 Two off-duty IDF soldiers will likely never forget the trauma they endured early Saturday, when an Arab gang nearly lynched them in a vicious, unprovoked mob attack.
"At certain moments I felt my end was nearing," one soldier told Yedioth Ahronoth, as shocking new details of the Haifa assault emerged Sunday.
Meanwhile, police arrested two additional suspects in connection to the assault. It is suspected at least six assailants currently in custody attacked the soldiers on the assumption they had hurled stones at their house earlier. Officers are currently of the opinion this was a case of mistaken identity.
"This is a very serious incident and we will hold a comprehensive investigation but it should be noted that this appears to be a case of pure hooliganism," a Haifa police official said. The suspects will face a remand hearing at the Haifa Magistrate's Court later on Sunday.
The two 19-year-old soldiers, who were back home for the weekend, decided to go out Friday night. During the outing, one of them felt intense pain in his arm and the two headed to Haifa's Rambam hospital.
"After we parked the car, another vehicle approaching quickly stopped next to us," one victim said. "They asked us whether we're Jewish, and then started yelling 'Jews, Jews.' We ran in different directions but they chased us."
"They caught up with me and started to beat me up with clubs all over my body. I felt they wanted to murder me," he said. "I saw about 15 or 20 people and felt I was finished."
Arabic words engraved on head
According to the second victim, the assailants came out of three vehicles equipped with clubs and metal rods.
"Seven or eight people grabbed hold of me, beat me up and kicked me all over my body," he said. "They also tried to hit my head with a club, but I protected myself with my arms. That's why my arms were pulverized. They hit also my head and pelvis with a rock."