Commenting on a post about the release of Abu Qatada, douche-bag traitor, Yvonne Ridley tries to lecture the Tundra Tabloids about supporting brutal Arab regimes.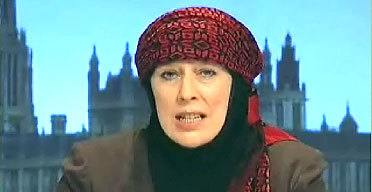 Douche-Ridley: And what if the secret evidence against Abu Qatada came from Arab rulers who feared he would bring about their downfall ie, create an Arab Spring? Oh dear, it seems you have been inadvertently supporting some of the most brutal rulers in the Arab world.
Gee, what a great honor it is (not) for such a traitorous low life like Yvonne Ridley, to comment on the Tundra Tabloids. A woman (like her low-life buddy Galloway) who openly supports the thug regime of Hamas, which threw the members of its rival, Fatah, from the roof tops during their take over of Gaza (which was an added insult since Islamic scripture calls for homosexuals to be killed by throwing them off of high places) and hunt apostates and everyone else who do not conform to draconian sharia. And you talk about me supporting brutal rulers?
Qatada is connected with Al-Qaida, and therefore a terrorist, and an a-hole, who belongs in a Jordanian hell-hole prison, which pretty much sums up you and your pal Galloway as well. When it comes to thuggery and brutality, your Taliban pals are right up there with your Hamas pals, in executing people in the most brutal of ways, (Islamic ways I might add).
The thugs Yvonne Ridley openly supports:
NOTE: She's also a lying douche-bag as well, claiming that Gaza is enduring hard times, while her other buddy, Lauren Booth, (Tony Blair's sister-in-law) is buying foodstuffs in a well stocked grocery store in Gaza.