The money pumped into the criminal organization called the P.A. is astounding, and it comes at the expense of other more deserving groups world wide. The amount of graft and outright thuggery from official PA channels of government is well known, hence the appropriate label of 'criminal'. Read here and here.
H/T: Challah Hu Akbar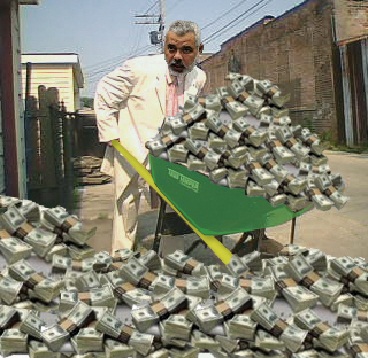 EU, Sweden contribute €24.7 million to January salaries
The European Union and Sweden Tuesday contributed €24.7 million to the payment of the January salaries and pensions of around 84,300 Palestinian civil servants and pensioners in the West Bank and the Gaza Strip, according to an EU press release.
The European Commission made €22.5 million contribution and Sweden made €2.2 million.
The European Commission's contribution comes from the €155 million package of financial assistance to the recurrent expenditures of the Palestinian Authority committed for 2012, said the release.
The European Commission agreed to a request by Prime Minister Salam Fayyad to frontload €116.2 million of this package in the first five months of 2012 in order to help the Palestinian Authority meet its urgent financial needs.
The €2.2 million contribution by the Swedish Government is part of its continuous support to the Palestinian Authority and the Palestinian people.