Too white and too Christian! 
The school's multicultural front was just that, a ruse. How could have it been any other way? This highlights the fallacy in promoting the (failed) concept of multiculturalism, while using the mass immigration of people belonging to a strict monoculture ideology (Islam) as a poster child for social cohesiveness. KGS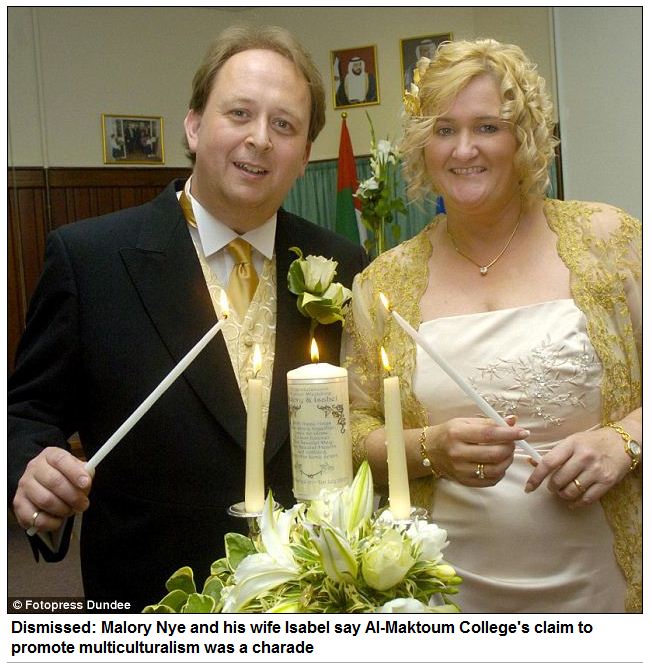 'We were sacked for being white and Christian', claim principal and his wife dismissed from 'multicultural' college
Malory Nye says he was forced out by Al-Maktoum College of Higher Education because he was 'not an Arab and not a Muslim'
By DAILY MAIL REPORTER
Last updated at 11:48 AM on 30th December 2011
A principal and his wife have been sacked from a college whose stated aim is to promote multiculturalism because they are white Christians, they claim.
Professor Malory Nye, 47, says he was dismissed from the Al-Maktoum College of Higher Education in Dundee, Scotland, because his race and religion were seen by his superiors as a threat to its core Muslim values.
He says the college's claims to pursuing multicultural values were a charade and that he was dismissed so he could be replaced by a Muslim.
His wife Isabel Campbell-Nye, 42, alleges she was forced from her position as head of the English language centre because she attracted too many students who were not Muslims or Arabs.