The Left's imprint upon the Black community over the last five decades or so, has been devastating. In spite of all the good intentions (remember that path to destruction), the Left's policies of big state intrusive politics has thoroughly decimated Black America in the inner cities.
In face of all the overwhelming data, it's undeniable that that's exactly what has happened, but yet those who claim to champion the Black community, are the very ones who promote the same failed policies that keep blacks enslaved to the state. The following article which points out the dangerous side effects of this Leftist/big statist paternalism, is a must read. KGS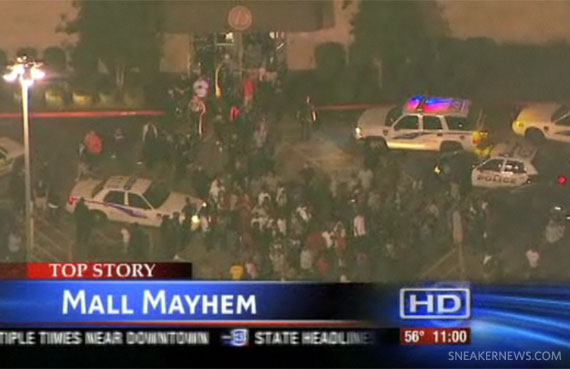 Mall Mayhem and Race Reality
While social ills continue to plague American society, the manifestations thereof among black American youths never cease to sadden. The latest examples are daunting. In several cities around the nation, the release of Nike's Air Jordans, a pair of sneakers that retail for $180, precipitated a series of fights, vandalism, riots and arrests. Even more daunting? A "game" called "Knockout King," where gangs of black youths surround a random victim, punch him to the ground, film the attacks and post them on social network sites.
First the sneakers. In suburban Seattle, police were forced to pepper spray youths who started fighting at the Westfield Southcenter mall. A crowd of more than 1000 were subjected to fights, resulting in several people getting cuts and bruises. Two doors were broken down. In Jersey City, a man was stabbed when a brawl broke out among those waiting in line. In Taylor, Michigan, more than 100 people broke into a shopping center at 5:30 a.m. Decorations were damaged and benches were overturned. Three people were arrested in Toledo, Ohio when a crowd once again surged uncontrolled into a mall.
Four more people were arrested in Lithonia, Georgia, where another door was broken down. In Charlotte, NC, dozens of police were called in to break up fights at Carolina Place Mall just after 5 a.m., and at Northlake Mall an hour and a half later. There shoppers forced mall doors open by removing sliders from their hinges. "At 6:30, they were like, that's it, we're going to bust the doors down, they busted the doors down, everybody was falling and running, shoes everywhere," one witness said. At the Boyton Beach Mall in Florida, two people were arrested for inciting a riot and resisting arrest. A mob of 400-500 people became so unruly, police were again forced to use pepper spray when the crowd ignored repeated commands to stop pushing and fighting.