You all (statists/socialists) are a menace to a free society, how about walling yourselves up you bunch of dolts. Better yet, just leave. KGS
Anti-fascists brick up Neo-Nazi politician's front door
Published: 20 Dec 11 16:28 CET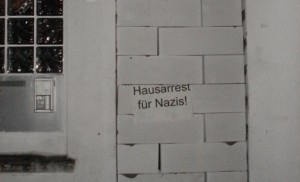 Anti-fascists in Lower Saxony bricked up the front door of a top member of the extreme-right National Democratic Party's (NPD) home to protest against his presence at a city council meeting on Monday.
The front door was neatly walled in overnight, and sealed with a poster reading, "House arrest for Nazis." An antifascist spokeswoman said the action was a symbolic attempt to stop him leaving the house.
Police were called to the house in Oldenburg where Ulrich Eigenfeld, treasurer of the NPD, lives, after other people living there opened the front door and found their exit blocked.
"The line is crossed for us when they leave the house with their misanthropic thinking," said a spokeswoman for the group in an email, according to the Oldenburger Lokalteil website.
She said that although anti-fascists were against walls in society, naming nationalism, racism, sexism and the class system as examples, this was a different case.
"We say – tear down walls! But for Nazis we make an exception," she said.