Once again, to show the highly disingenuousness nature behind the OIC's claims of combating "religious intolerance", I have to refer you to the head honcho's infamous quote he issued back in 2008 to a comment/question by the Tundra Tabloids in Helsinki Finland. In october of 2008, Ekmeleddin Ihsanoglu stated the followed words, verbatim and on tape: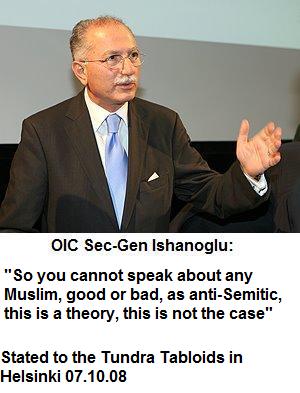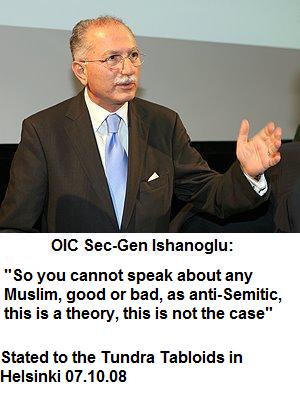 Why Ishanoglu has not been taken to task over excusing any Muslim from the charge of anti-Semitism, and by default, making sweeping bigoted generalization that only a non-Muslim can be an anti-Semite, is beyond me. Time for others out there, of larger influence, to take the issue up and begin to put the squeeze on this guy. KGS
Why is the Obama Administration Giving the OIC a Say in Our Right to Free Speech?
by Ann Snyder  •  Dec 10, 2011 at 2:27 pm
Starting on December 12th in Washington, DC, a meeting is being held that jeopardizes freedom of speech as we currently understand it in the United States. The Obama Administration has invited the 57-member Organization of Islamic Cooperation ("OIC," formerly, The Organization of the Islamic Conference) to a meeting of "experts" to discuss the implementation of a UN resolution ostensibly targeting "religious intolerance."
Now, even if by combating "religious intolerance" the resolution were just targeting actual violations of freedom of religion (READ: violating rights, not hurting feelings), it still should raise a few eyebrows that the OIC is behind the resolution and was invited as a partner to these meetings. The Jeddah-based OIC includes as its members such "champions" of human rights and religious freedom and tolerance as Saudi Arabia, Egypt, Pakistan, andIran.
But the catch is that the resolution isn't about protecting freedom of religion. It is about limiting freedom of speech and expression.
For those not familiar with OIC's activities at the UN, for over a decade it has sponsored one speech-restrictive resolution after another aimed at criminalizing what it calls "defamation of religions." While the terminology has changed over time (from "defamation of Islam" to "defamation of religions" to "vilification of religions"), the goal has remained the same—to limit expression that the OIC deems critical of or offensive to Islam or Muslims (using a rather thin-shelled standard of what constitutes "offensive," to boot). (Click here for more background). Next week's meeting is about "implementing" that latest iteration of these resolutions, Resolution 16/18[1], which was introduced in and adopted by the Human Rights Council (HRC) at the UN last March.