From the "Nothing holy in Islam" files: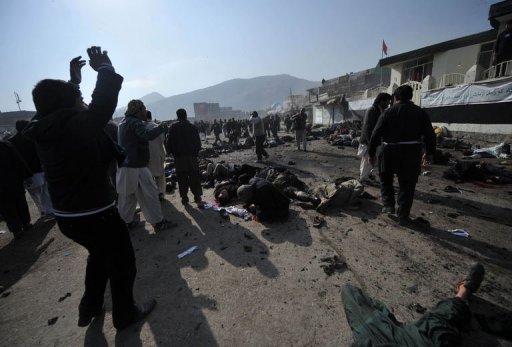 Afghan shrine blasts kill 58 on Shiite holy day
By Sardar Ahmad (AFP) – 5 hours ago
KABUL — Twin blasts at Afghan shrines on the Shiite holy day of Ashura left at least 58 people dead on Tuesday, with one massive suicide attack in Kabul ripping through a crowd of worshippers including children.
The attack in the capital and another in the northern city of Mazar-i-Sharif came a day after an international meeting in Germany aimed at charting a course for Afghanistan, 10 years after US-led forces drove the Taliban from power.
The Kabul blast alone killed 54 people, in the deadliest strike on the capital in three years. The Taliban condemned the attacks as "inhumane" and instead blamed the bloodshed on the "invading enemy".
The explosion erupted at the entrance to a riverside shrine in central Kabul, where hundreds of singing Shiite Muslims had gathered to mark Ashura, with men whipping their bare backs as part of the traditional mourning.