Islamization on steroids.
Folks, we in the Counterjihad network are not making this stuff up, this is real life as we now know it, and it's taking place within our own backyard. Just think of it in the reverse, to real democracy being spread throughout the Muslim Middle East and elsewhere in the Muslim world, with any army of Jeffersonians creating one anti-totalitarian non-Muslim enclave after another.  Soon, if the vast majority of people are not woken up to the reality of the situation, it's lights out in Europe. KGS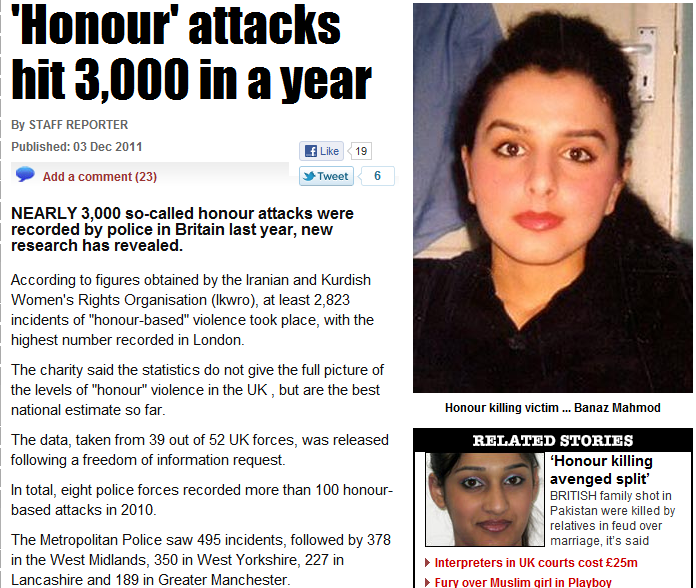 Cleveland recorded 153, while Suffolk and Bedfordshire saw 118 and 117 respectively, according to the figures.
Between the 12 forces able to provide figures from 2009, there was an overall 47 per cent rise in honour attack incidents.
Police in Northumbria saw a 305 per cent increase from 17 incidents in 2009 to 69 in 2010, while Cambridgeshire saw a 154 per cent jump from 11 to 28.
A quarter of police forces in the UK were unable or unwilling to provide data.
In their report on the data, Ikwro wrote: "This is the first time that a national estimate has been provided in relation to reporting of honour-based violence.
"The number of incidents is significant, particularly when we consider the high levels of abuse that victims suffer before they seek help."