It's an outrage.
The guidelines for these TSA searches are too politically correct orientated to be any use against terrorism, they're simply not based on methods backed by sound logic and reason. Israel uses the best methods available, face to face questioning which takes into consideration, profiling, body language and evasive and questionable answers. KGS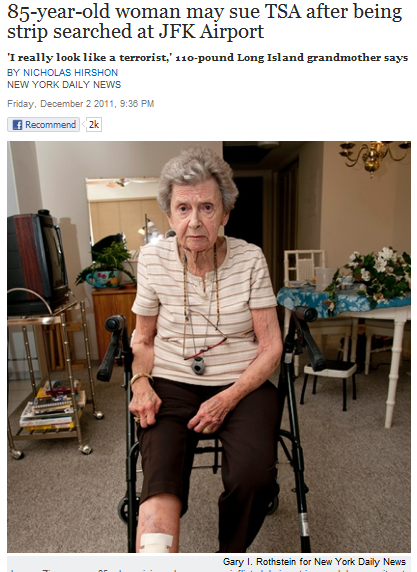 An 85-year-old Long Island grandmother says she plans to sue the TSA after a humiliating strip search on Tuesday by agents at JFK Airport.
Lenore Zimmerman, who lives in Long Beach, says she was on her way to a 1 p.m. flight to Fort Lauderdale when security whisked her to a private room and took off her clothes.
"I walk with a walker — I really look like a terrorist," she said sarcastically. "I'm tiny. I weigh 110 pounds, 107 without clothes, and I was strip-searched."
TSA spokeswoman Lisa Farbstein said a review of closed circuit TV footage from the airport shows "proper procedures were followed."
But Zimmerman, whose hunched back puts her at 4-foot-11, said her ordeal began after her son, Bruce, drove her to the JetBlue terminal for the Florida flight. She lives in warm Coconut Creek during the winter.
She checked her bags, waited for a wheelchair and parted ways with her doting son — her only immediate relative.
When Zimmerman reached a security checkpoint, she asked if she could forgo the advanced image technology screening equipment, fearing it might interfere with her defibrillator.
She said she normally gets patted down. But this time, she says that two female agents escorted her to a private room and began to remove her clothes.
"I was outraged," said Zimmerman, a retired receptionist.
The stupidity has to end, it's not saving lives.