Putting a crimp into their main pimp.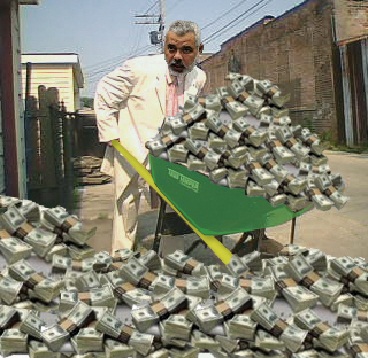 Ismail Haniyeh: Hey you're cutting into my monthly haul!
Jerusalem men accused of raising millions for Hamas
Shin Bet, police arrest senior Hamas members on suspicion of raising funds abroad, working to strengthen terror group's presence in east Jerusalem
Yoav Zitun Published: 11.29.11, 17:40 / Israel News
The Shin Bet and police arrested a number of senior Hamas members in recent months on suspicion of working to raise funds from foreign countries and boost the organization's presence in east Jerusalem. The activists were charged at the Jerusalem District Court with money laundering, being active in a terror organization and using property for terrorist purposes.