Yes we are talking about men wounded in battle, but this is not an isolated incident, there were large numbers of Libyans causing trouble. I have yet to see or hear of Western soldiers behaving in mass numbers in the same way, have you? KGS
NOTE: This goes to show you that importing mass numbers of people from failed societies who come from completely different cultures, and who refuse to integrate themselves, is not too smart of an idea.
H/T: Sisu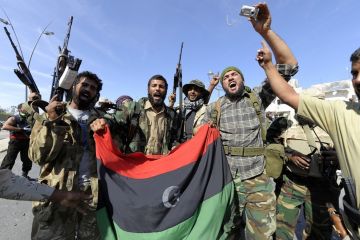 Wounded Libyans are rioting in hospital
Racism and demands for special treatment greet staff at Odense University Hospital
These are some of the wounded 15th November arrived in Denmark, which now make trouble at the hospital in Odense.
– How would a wounded Dane mon feel about 'country' on a stranger hospital? I understand that these problems arise, says senior consultant Niels Dieter Rock from Odense University Hospital.
Oxygen cylinders and a lit cigarette is not the world's best presentation.
But smoking is just one of the requirements that a group of wounded Libyans places during their stay at Odense University Hospital.
Since the wounded were flown to Denmark 15 November, the hospital's doctors and nurses also had to contend with racist remarks and demands for special treatment of the injured. According Ekatrabladet information will men for example have a female interpreter.
Doctor: I understand them
The problems were so severe that hospital management has asked the Libyan authorities to send people to the hospital to solve problems – and it has helped.
– We have said that we would have someone to come and talk properly with them and explain how the terms are in Denmark, explains chief executive Niels Dieter Rock Extra Bladet.
He stresses, however, that he understands that the problems arose.
– When you are brought from a war zone and nestled in one of the defense aircraft and ends at a Danish hospital, where we have a completely different culture, so it may not surprise some that we have some problems.
He confirms that smoking in the rooms has been a topic.