This is sadly just one more example of the blood cult revenge mentality that exists in Islamic countries.  KGS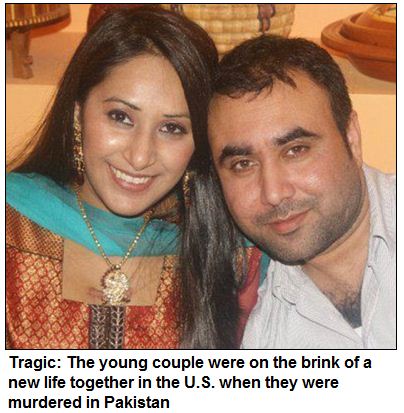 American woman and partner attending family wedding in Pakistan murdered in suspected honour killing
By GRAHAM GRANT, HOME AFFAIRS EDITOR
Last updated at 6:43 AM on 25th November 2011
Couple about to start new life together in the U.S.
Sources suggest the groom's relatives had been happy with the marriage, but it had caused upset among the bride's family
A Scottish businessman and his American wife were gunned down in the street in a suspected honour killing while on holiday in Pakistan.
Glasgow-based Saif Rehman, 31, and Uzma Naurin from New York, 30, were shot dead when their car was ambushed in the north-eastern city of Gujrat following a shopping trip.
The couple had been about to start a new life together in the U.S. after their trip to Pakistan for Mr Rehman's brother's wedding.
It is understood the couple were accompanied by a driver, Mr Rehman's sister and her two-year-old daughter, but the other passengers were unharmed.
The group of four gunmen stopped the car, opened fire and killed Mr Rehman before bundling his wife into their vehicle and killing her at a spot nearby – then dumping her body by the roadside.
Pakistani police are probing claims that there had been tension between the couple's in-laws over their marriage three years ago.

They were married in Manchester but another, fuller ceremony involving both sides of the family took place in Glasgow in June, when it appeared that the differences might have been resolved.