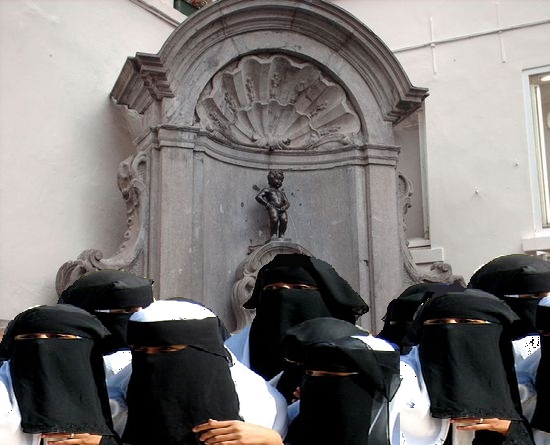 Brussels: The New Capital of Eurabia
by Soeren Kern
November 22, 2011 at 5:00 am
Muslims now make up one-quarter of the population of Brussels, according to a new book published by the Catholic University of Leuven, the top French-language university in Belgium.
In real terms, the number of Muslims in Brussels — where half of the number of Muslims in Belgium currently live — has reached 300,000, which means that the self-styled "Capital of Europe" is now the most Islamic city in Europe.
In practical terms, Islam mobilizes more people in Brussels than do the Roman Catholic Church, political parties or even trade unions, according to "The Iris and the Crescent," a book that is the product of more than one year of field research and was released to the public on November 18.
The book's author, the sociologist Felice Dassetto, predicts that Muslims will comprise the majority of the population of Brussels by 2030.
In Belgium as a whole, Muslims comprise roughly 6% of the total population, one of the highest rates in Europe. This number is expected to rise to more than 10% by 2020.
According to Dassetto, Islam is becoming increasingly visible in Brussels: there are more and more mosques and minarets, more veiled women and more Muslim organizations.
The book also warns that ultraconservative elements within Islam are increasingly gaining ground in Brussels.
Of the many strands of Islam represented in Brussels, Salafism is apparently far and away the most popular. Salafism, the highly conservative pan-Islamic movement, seeks, among other objectives, to unite the Muslim world under the leadership of a single Caliph, or ruler, who would govern based on Islamic Sharia law.
The book also reveals that most Muslims in Brussels have an "us" versus "them" mindset, which hinders their integration into Belgian society.
h/t: potb