How else could it have ended?
Remember, this is what you get when you lean over backwards trying to appease and placate to the sensibilities of certain intolerant groups of people, you'll get your own tolerance and good will shoved right back into your face. That said, they should have just focused on reminding the area in question that littering is against the law, and if you don't want to be thought of as a bunch of pigs, clean your area up. KGS
H/T: Kumitonttu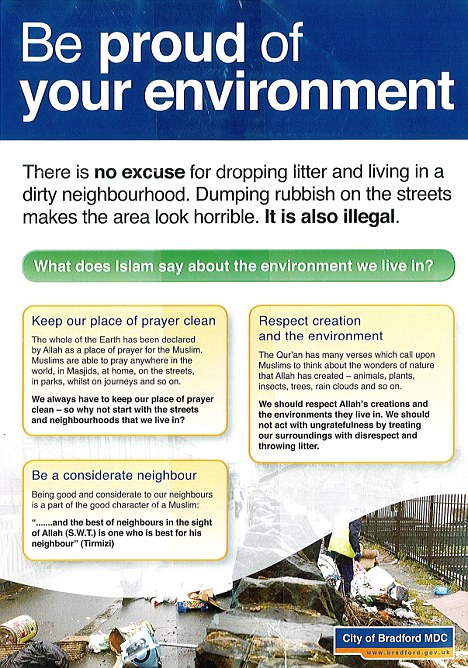 BINNED: Anti-litter poster that was an 'insult to Muslims'
By GLEN OWEN
Last updated at 12:34 PM on 20th November 2011
A Labour council was at the  centre of a race row last night after printing a leaflet targeted at  Muslims that invoked the name  of Allah in urging them to stop  littering the streets.
Bradford City Council was accused of inciting racial hatred by publishing leaflets that showed rubbish-strewn pavements – and appeared to place the blame on Muslims.
The pamphlet, titled 'Be proud of your environment', used the Koran to lecture them about breaking the law and making a 'horrible' mess of the city.