And it's a one-sided war entirely of Sweden's choosing.
THE SWEDISH GOVERNMENT IS IN A UNILATERAL PROPAGANDA WAR AGAINST THE JEWISH STATE OF ISRAEL…….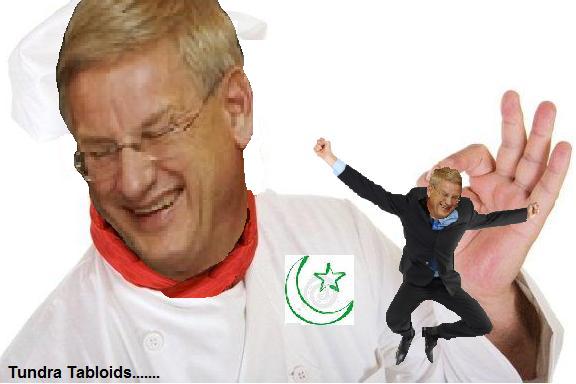 Karl Bildt, the anti-Semitic chef, just a pinch of him will do
NOTE: Bildt has been one of the main, key Swedish politicians who has been repeatedly goading Israel every which way he can. He even took to congratulating anti-Israel activists upon their return from the Mav Maramara, a ship that illegally tried to break Israel's legal anti-weapons blackade.
Sweden funds anti-Israel brochure
Scandinavian country finances booklet accusing Jewish state of ethnic cleansing, apartheid rule
Itamar Eichner
Published: 11.20.11, 09:49 / Israel News
Sweden has funded the publication of an anti-Israel booklet titled "Colonialism and Apartheid – the Israeli occupation in Palestine," Yedioth Ahronoth reported Sunday.
According to the report, the Swedish government transferred NIS 390,000 (roughly $104,600), under the guise of humanitarian aid, to a Swedish-Palestinian solidarity group for the creation of the ornate 40-page booklet.
The brochure's authors accuse Israel of racist legislation, ethnic cleansing, racial segregation, establishing an Apartheid regime in the territories, and bombing Palestinian civilian homes. Furthermore, the brochure calls for a boycott of the Jewish state.