The revolution that never was, military coup picking up where Mubarak left off. That said, whatever takes its place will be far worse than anything Mubarak said or did, and you can take that to the bank. KGS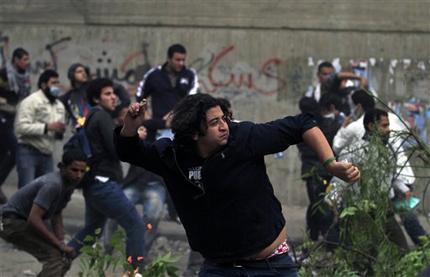 Doctors: 3 killed in assault on protesters
By MAGGIE MICHAEL and SARAH EL DEEB
Associated Press
Doctors: 3 killed in assault on protesters
CAIRO (al-AP) — Egyptian doctors say three people have been killed in a police and army assault to evict protesters at Cairo's central Tahrir Square.
The assault came on the second of two days of clashes between Egyptian security and protesters calling on the ruling military to quickly announce a date for the transfer of power to a civilian administration.
Mahmoud Said, a doctor at the nearby Munira hospital, said the bodies of two men were brought to the hospital on Sunday evening, while Mohammed Qenawy, a doctor at one of two field hospitals in the square, said a male protester in his early 20s also was killed.
The military took over when longtime authoritarian leader Hosni Mubarak was ousted by a popular uprising in February.