Islamic state 101. It was never a true democratic movement, nor could it ever be, because it took place in a Muslim state, and in the Arab-Muslim Middle East. KGS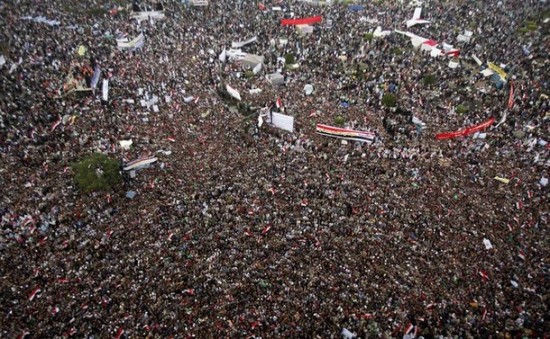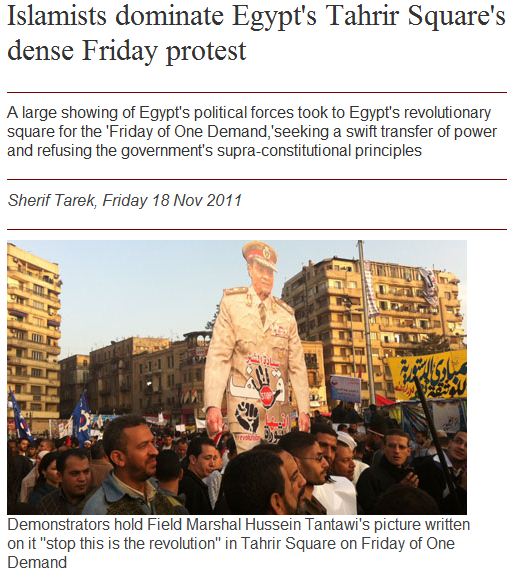 Hundreds of thousands of protesters descended on Tahrir Square Friday to call for one principal demand: an end to military rule and a swift transfer of power to an elected president by April 2012.
Although labelled the 'Friday of One Demand', repudiation of the supra-constitutional principles, dubbed "El-Selmi's Document," equally resounded across the square.
The supra-constitutional principles, proposed by Deputy Prime Minister for Political Affairs Ali El-Selmi, have been the source of much ire by the vast majority of political parties and groups, especially Islamists, who believe they will win a majority in the forthcoming parliamentary elections, and thus would have an upper hand in drafting the constitution.
The so-called Selmi document, critics say, will grant the ruling Supreme Council of the Armed Forces (SCAF) unfettered powers and place undue conditions on the formation of a constituent assembly charged with drafting Egypt's new constitution.
For months now, the ruling SCAF has increasingly found itself in sticky situations for a multitude of reasons including: the chronic security vacuum, the continuing military trials of civilians, a deteriorating national economy and for "ignoring" the demands of the January 25 Revolution.
VIA: Weasel Zippers