The great achievements of our time.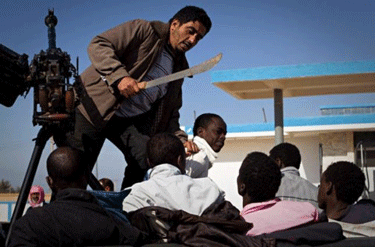 Muslim Brotherhood goes public with Libya summit
By Francois Murphy
BENGHAZI, Libya | Thu Nov 17, 2011 6:30pm EST
(Al-Reuters) – The Muslim Brotherhood held its first public conference on Libyan soil on Thursday after being banned for decades, and used the platform to set a moderate tone, calling for a broad national reconstruction effort.
As Libya emerges from a bloody civil war, many observers believe the next elections could pit religious political groups against secular parties, with better-organized Islamists such as the Brotherhood having a tactical advantage.
Speaking nine months to the day after the start of the uprising against Muammar Gaddafi that eventually ended his 42-year rule, Libyan Muslim Brotherhood leader Suleiman Abdelkader praised the rebellion and called on Libya's factions to unite.
"Rebuilding Libya is not a task for one group or one party but for everyone, based on their ability," Abdelkader told the meeting of about 700 people at a wedding hall in Benghazi, the eastern city where the revolt against Gaddafi began.
His remarks appeared to be an expression of support for the idea of a technocratic interim government, which Abdurrahim El-Keib, the prime minister designate, is trying to assemble by a Tuesday deadline.
H/T: Weasel Zippers