The average Swede, Norwegian, Dane or Finn has very little understanding of the messianic fanatiacism of the shi'ia. Here's a Swede writing in the Swedish Expressen who has his eyes wide open. KGS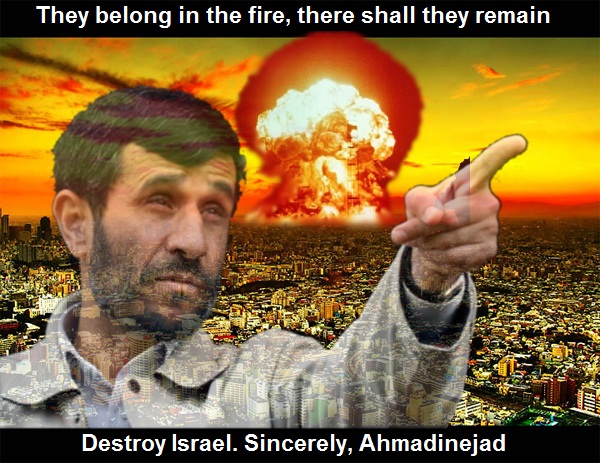 When it explodes?
17th November – 2011 – Kl. 13:56
Swedish Expressen writer, Ulf Nilsson, hits the "bulls eye" with this cash column
How big will the catastrophe be? Tens of thousands dead? A partially poisoned and radioactive world? Iran destroyed? Israel smashed?
The above questions are asked daily by the media in the U.S., where I (Ulf Nilsson) landed a few days ago. In Sweden – peaceful, beautiful Sweden – we do not like to discuss possible disasters, but this time the concerns are clearly motivated.
Basic facts:
Iran is led by fanatical Muslim clerics, mainly Ali Khamenei, and the little crazy Ahmadinejad. Both belong to Islam's Shia sect that celebrates martyrdom and relentless struggle against the "infidels", ie us!
Shi'ites believes that Israel should be destroyed – or in plain text: that any Jew, man, woman or child should be killed. Yes, they mean it – it's hard to understand for a Swede – but they think it's true. For real. They want to see a pile of flaming corpses…
So the risk is great for Iran to attack Israel with one or more nuclear warheads carried by missiles produced with help from China and Russia. That also London or – less likely – Paris is attacked is possible. Stockholm survives because we are so insignificant.
That Iran is near, very near, to have nuclear weapons, is confirmed by the UN International Atomic Energy Commission, the IAEA, in Vienna. Maybe in a year, maybe a little longer…
In short, we have reached a point where everything should be done to avoid disaster. Fanatics in Iran – I remember those awful days in Tehran, when Khomeini came to power! – cannot be allowed to have nuclear weapons. That the Israelis think like that is obvious. When the killer presses a knife against your throat, it is natural to do anything to get loose.
So far, the Israelis, discreetly supported by the US, have only threatened. But the Jews, whom Adolf Hitler (and later, Nasser, Saddam Hussein, and others) wanted to erase from the face of the planet, cannot escape the fact that they are worried, maybe even scared to death. Israel, with 22,070 square kilometers, is much smaller than Sweden's Småland (30 000), but has about 7.4 million people – it's packed by humans and at the same time surrounded by enemies and therefore more vulnerable than any other nation on earth. Can such a situated country quietly wait for their implacable enemy targeting them with their nuclear weapons?
The answer is no.
An Israeli leader who is – by all means, let me repeat: by all means – trying to prevent the 2nd Holocaust, will not betray his people. He will also, I think personally, not betray our entire civilization. The perception is undoubtedly controversial. To kill thousands of innocents – which is more or less inevitable, if Israel strikes – is an odious act. Yes!
On the other hand:
Negotiations have so far failed to bring the parties a millimeter closer together. What happens if Iran gives Hezbollah and Hamas, a couple of warheads, relatively easy to smuggle into Tel Aviv? A simultaneous attack on two oil countries will soon cripple – and maybe get the western world to shut down. What happens then?
All sensible people, like myself, hope the problem will be solved through negotiations. But is it possible in the fevered atmosphere that is the reality in the Middle East today?
Translation by Hans Erling Jensen, Eticha.dk