"Worthy heir of the greatest leftist struggles."
That pretty much captures the Leftist mindset, offering kudos to a cold blooded, murdering mustard terrorist. The man, Carlos 'The Jackal' Sanchez, murdered a lot of people during his crime wave of terror and mayhem, and should have ended up in the bottom of crater instead of getting three squares of halal a day at the taxpayers' expense. This is another reason why the death penalty should be brought back into use. KGS
NOTE: No doubt Chavez's latest words of praise for the Jackal terrorist won't damage his popularity in Hollywood, which has gone over to the dark side ages ago.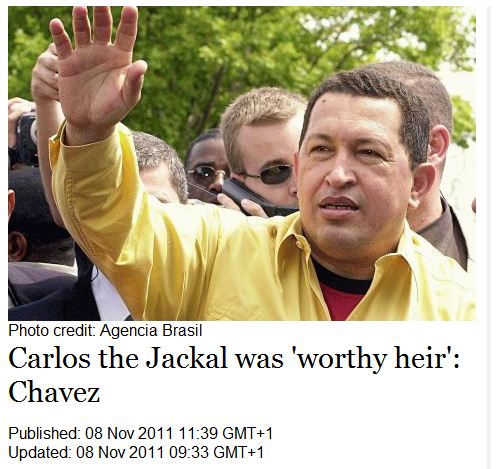 President Hugo Chavez on Monday described leftist Venezuelan militant Carlos the Jackal, on trial for deadly attacks in 1980s France, a "worthy heir of the greatest (leftist) struggles."
"Independently of what he has been accused of, 'Carlos' during that era was a worthy heir of the greatest struggles that emerged from here on behalf of the people, and popular justice," said Chavez, a socialist ex-paratrooper, alluding to Venezuelan support for the Palestinian cause.
Chavez, who said he would not comment on the charges against the Venezuelan, also said he ordered Foreign Minister Nicolas Maduro to ensure that Carlos' rights are guaranteed as the trial proceeds.
Carlos the Jackal went on trial Monday in Paris accused of killing 11 people in four bombings in 1980s France.
The 62-year-old has made no secret of his past as the leader of a gang that carried out attacks on behalf of Warsaw Pact intelligence agencies and far-left or pro-Palestinian causes, but denies the latest French charges.
Wearing jeans and a blue jacket, Carlos Ilich Ramirez Sanchez waved and gave the left-wing rebels' traditional salute to a motley collection of supporters struggling to find space alongside dozens of journalists.