There is no doubt that this bastard has contemplated it. It underlines the importance of understanding the Muslim claim that "the killing of innocents is not condoned by Islam". Anyone who is not a Muslim is by default not innocent'. KGS
This mustard has murder on his mind.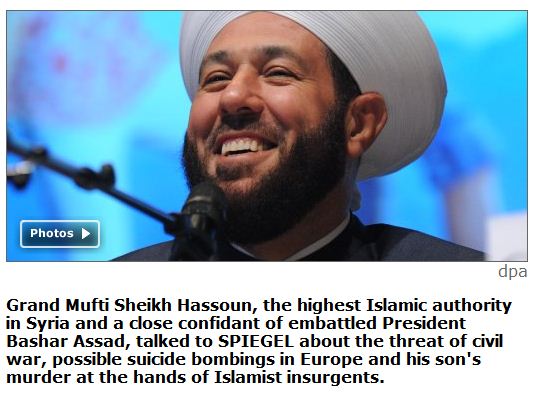 For some he is a holy man, for others he is little more than a rabble-rouser. But no one can dispute that Grand Mufti Ahmad Badreddine Hassoun, 62, is one of the most important men in Syria, a man who, as the country's most senior religious scholar and a close political advisor to President Bashar Assad, plays a role in shaping war and peace in his country and in the entire Middle Eastern region.
Sheik Hassoun, a Sunni religious scholar at Al-Azhar University in Cairo and a member of parliament for eight years, has always found conciliatory words in the West. He sharply criticized the term "Holy War" in front of the European Parliament, saying: "Only peace is holy." At the Ecumenical Church Congress in Munich, he impressed fellow participants with his plea for interfaith dialogue and stunned German bishops with the proposal that the Christian Democratic Union (CDU) should remove the letter C from its name, for reasons of secularism.
Now, in October, Hassoun has adopted a decidedly different tone in his homeland. The following passage was leaked from the eulogy he gave for his son Saria, who had been killed by militant regime opponents: "The moment the first (NATO) missile hits Syria, all the sons and daughters of Lebanon and Syria will set out to become martyrdom-seekers in Europe and on Palestinian soil. I say to all of Europe and to the US: We will prepare martyrdom-seekers who are already among you, if you bomb Syria or Lebanon. From now on, an eye for an eye and a tooth for a tooth."