If you do not adhere to the rules of the airline while on board its plane, cause a huge scene while being told to obey the rules by the flight's staff, expect to have your tail tossed off the flight. This Mustard was on his way to lecture at a few Muslim events in Norway, but due to his actions he alone is to blame for his being re-routed. This racism charge should serve as a warning to all, Muslims pushing sharia will use any means to advance their goals, even the ludicrous claim of racism. KGS
H/T: CM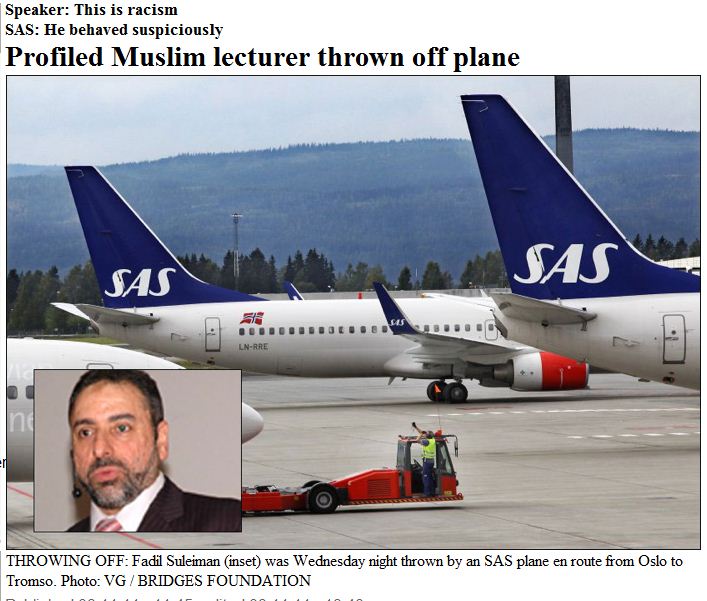 (AP/VG.no) The Egyptian Fadil Suleiman was thrown off the plane on the way to gives speeches at the Al-Nor-mosque and participate in a debate in Tromsø.
The prominent Egyptian presenter Fadil Suleiman was to give lectures on Islam and terrorism in Tromsø and debate with Islam critic Hege Storhaug. But yesterday he had to stay in Oslo, when he was thrown off the plane on the way to Tromso.
Although Suleiman has given his version of what happened in the great Egyptian social news site BRQ on Facebook. According to him, although he behaved at all times calm and polite to the cabin staff and claim they were subjected to discrimination.
– Suspicious
According to SAS, several of his fellow passengers have responded to the speaker's behavior. He must have been very nervous and have continued to use his laptop computer after the cabin crew had given orders that all electronic equipment must be switched off completely.
– He was behaving suspiciously. He was aggressive and threatening, said information officer Knut Morten Johansen of SAS to VG Nett.
Confrontation
According to Suleiman's own version of the story he was polite to have complied with the requirement to turn off his laptop, but said he would appeal if he had the opportunity to do so.
While the purser on board the aircraft allegedly talked to the rest of the crew, Suleilman then allegedly used his mobile phone, which was supposed to be turned off.
 – This was followed by another confrontation where he refused to confirm that his mobile and PC were turned off, according to Johansen.
After consulting with the captain, it turns out that the plane can not take off with him on board, says Johansen. He was then asked to get off.
He then allegedly began to make trouble:
– He did not resist physically, but was quite unpleasant verbally, Johansen of SAS reports to VG Nett.
Allegations
For denying the Muslim speaker and accused the SAS of racism.
– Fortunately, I know that racists are not going to heaven, says Suleiman in a post on Facebook. 
SAS rejects the racism allegations.
– For it is only to say that this has nothing with racism to do. It's not about skin color and background, but general awareness, information officer, said Johansen.
Flaut
The speaker would rather stay in Oslo, after he refused to fly further with SAS on the same day and also refused to buy a new ticket from Norwegian (air).
– This is embarrassing. He travels all over the world and has just been in Sri Lanka and Kuwait. He knows how to behave on a plane, says Sandra Maryam Moe from the Alnor mosque in Tromso who had invited the speaker.