Finland's 60's radical Erkki Tuomioja had a big hand in steering the government cabinet's foreign and security policy committee to vote in favor of Palestinian membership in UNESCO. He's a menace. KGS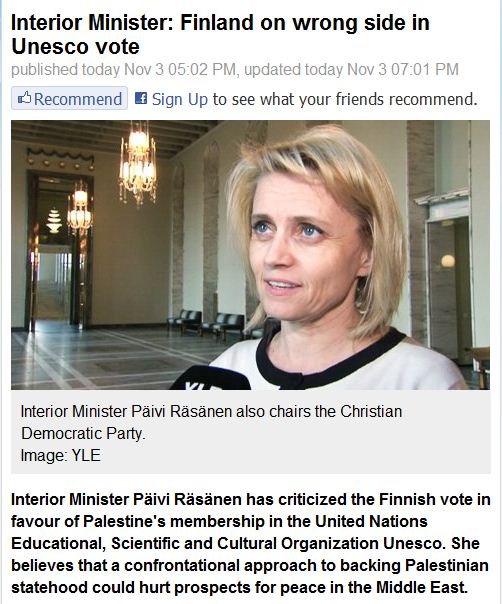 Räsänen is critical of Finnish voting behaviour because Unesco membership will raise the profile of Palestine and thus, she believes, raise tensions.

"Raising the profile of Palestine towards that of an independent state in a confrontational manner can intensify the Middle East conflict and block the compromises needed to find peace," said the Interior Minister.

She added that in her opinion, Finland should have voted against membership for Palestine or abstained during the vote.

Päivi Räsänen said she considers it important that Palestine should fulfill the conditions of rejecting terrorism, recognizing the State of Israel and recognizing earlier agreements. This was the second reason she gave for judging the Finnish vote as wrong.

The Interior Minister went on to stress the role of the president in Finnish foreign policy.

"Finland's foreign policy is led by the president in cooperation with the government. In practice, the position of the president is still very strong. The matter of recognizing statehood for Palestine will probably be left for the term of the president elected this coming spring," Räsänen stated in a press release.