What could go wrong?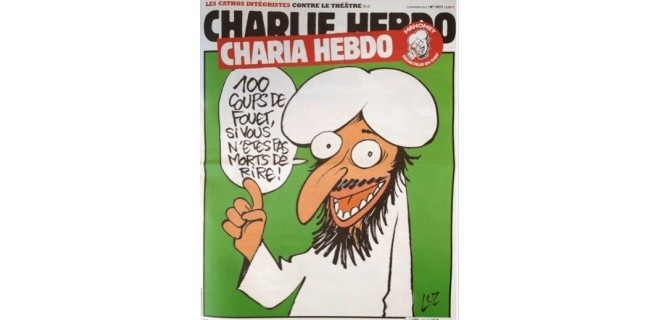 'Prophet Mohammed' to guest-edit French satirical newspaper
Agence France-Presse Oct 31, 2011 – 2:52 PM ET | Last Updated: Oct 31, 2011 2:59 PM ET
PARIS — Satirical French magazine Charlie Hebdo is on Wednesday to publish an edition edited by prophet Mohammed, the polemical weekly said, in "honour" of Islam's influence on the Arab Spring.
"In order fittingly to celebrate the Islamist Ennahda's win in Tunisia and the NTC [National Transitional Council] president's promise that sharia would be the main source of law in Libya, Charlie Hebdo asked Mohammed to be guest editor," said a statement.
The weekly has been rebaptised Sharia Hebdo for the occasion, and will feature on its cover a picture of Mohammed saying: "100 lashes if you don't die of laughter!"
On the back page, a picture of Mohammed wearing a red nose is accompanied by the words: "Yes, Islam is compatible with humour."
The cover was circulating on social media such as Twitter on Tuesday, with many users incensed and describing it as "puerile."
The weekly's publisher, known as Charb, rejected accusations that he was trying to provoke.
"We feel we're just doing our job as usual. The only difference is that this week, Mohammed is on the cover and that's quite rare," he told AFP.