Uh….Bill, that's been tried before.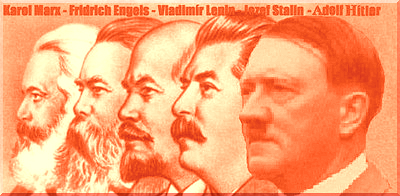 The essence of statism by Bill Clinton:
"I have a pretty good idea how the 21st century works and (pause) there's not a single successful country on the planet that operates on the theory that the government is the problem (pause) not one. Every successful country has both a strong private economy and a smart, strong government that work together to provide economic opportunity, educational opportunity, provide decent health care and get into the future."
This kind of thinking is the result of classic Left-Right socialism experimentation over the past century. The statists float endlessly between the two halves of the socialist whole. During the earlier half of the 20 century they moved between the radical genocidal socialist ideologies of hard core Internationalist Marxism and Nationalist Fascism. Now the 21 century has moved back to 19th-20th century Social Democratic theory, or Fabian Socialism, where progressively, step by step the government gets bigger, and the bigger the government, the better off society will naturally be!
Interestingly enough, "Slick Willy" will gloss over the burden created on the economy by over bloated bureaucracies, like in lack luster Greece, Spain, Portugal, Italy, France, Germany, England, The Netherlands (just to name a few). These are massively big government countries. The problem with Clinton's "big government is the solution" is the fact that it always increases its size at the expense of the private sector and creates dependents upon the taxpayer's teat, as well as chipping away of individual property rights (read = liberty).
Statism never works (for long), it is economic death by a thousand paper cuts, that in the end creates subjects out of former citizens that are on the short path to becoming indentured servants if not outright slaves. The world view that Bill Clinton (and others like him) promotes,  is one of tyranny, servitude and misery. Statism will never bring prosperity because the philosophy is based upon robbing the individual of his/her liberty (meaning property rights) to satisfy the whims and desires of a select few (you know, the geniuses).
Therefor it's entirely immoral philosophy and needs to be rejected. KGS
H/T: Brietbart TV
BILL CLINTON: 'NO COUNTRY ON EARTH BELIEVES GOVERNMENT IS THE PROBLEM'