The predictable parrots of the international media, as well as here in Finland, have taken to labeling the incoming Ennahda party as 'moderate Islamists'. Yes that's right, moderate Islamists. Like the Tundra Tabloids has said before, there's no such thing as "sharia light", and any downplaying of that reality is pure disingenuousness and/or flat out ignorance. Andy Bostom gives a little background on one of the central figures in that party that might be given the nod for the top PM spot. KGS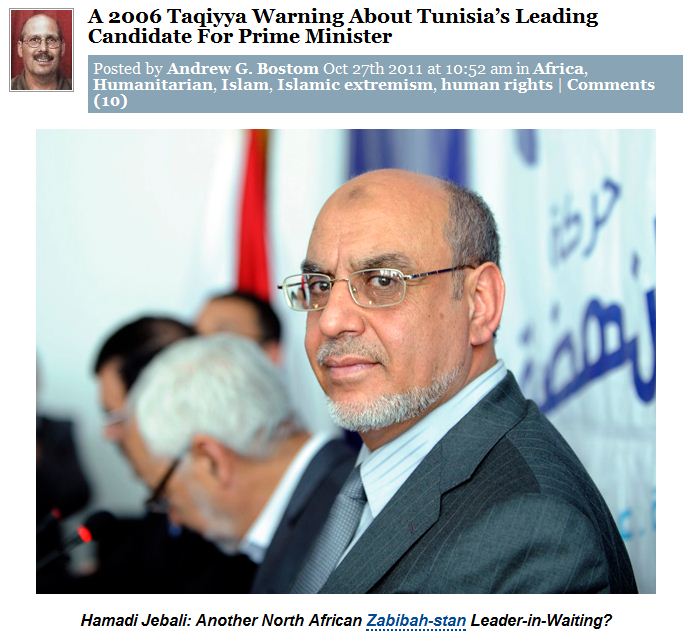 On the heels of their landslide election victory,  Tunisia's Muslim Brotherhood offshoot Ennahda Party has just announced that Ennahda's Secretary General and spokesperson, Hamadi Jebali (who, fittingly, sports a prominent Zabibah on his forehead, slightly left of center), will be its candidate for Prime Minister.
Career US diplomat, David Ballard, then having a senior role in Tunisia, summarized his 8/30/2006 meeting with Jebali, as recorded in a 9/6/2006 cable published by Wikileaks.
Jebali unabashedly extolled Hamas's electrical victory as a "paradigm" in his discussion with Ballard. Moreover, Ballard's own assessment concluded with a sober warning about Jebali's (and Ennahda's) dissimulation gleaned from additional interviews with reliably secular elements of Tunisian society, who were also vehement in their opposition to the recently toppled Ben Ali government.
[…]
And Ballard acknowledged this major caveat regarding Jebali's assurances:
Many of our secular opposition and civil society contacts, themselves stridently anti-regime, also warn us "not to be fooled" by An-Nahdha's talk of moderation. Jebali, the most senior An-Nahdha official with whom we've met in recent years, indeed presented what he undoubtedly assumed to be a "West-friendly" description of An-Nahdha's politics – no Shari'a law, democracy with full participation, etc.