What a load of nonsense.
What Europe needs is more capitalism, open free markets and an end to nanny state socialism that's driving each state into the dirt. What's happened to Europe over the past 5 decades has been a long protracted knife stab into the heart of each fragile democracy and its democratic traditions. More and more political power in the EU has been concentrated into fewer hands and has slowly come to resemble that loathsome union which imploded over two decades ago. The USSR.
Allowing an unanswerable behemoth like the EU to manipulate its undemocratic system through an arbitrary adherence to its own draconian laws and regulations while it rides roughshod over state parliaments is in fact the real danger here, not the break up of the EU.
(Here's some smelling salts for the Occupy wall street demonstrators, they're chasing ghosts with their rage over the supposed danger of "wealth being in the hands of the 1%". Wealth is always creating new wealth, being put to work in the economy by banks across the land every day as they lend and invest money from their customers and shareholders into business ventures.)
The real problem is the concentration of political power into fewer hands, which leads to tyranny, we see all the signs of that in the Obama administration, but even more so in the European Union. A Europe fully set upon the bedrock of free market capitalism, strong democratic traditions coupled with open transparency, and a policy of limited government, would ensure that individual states would never go to war with each other.
All the while the EU has presented itself as the saviour of European peace and security, it has been in fact an entirely destabilizing institution. The corruption, the lies, the stealing of wealth, the crony capitalism (which has nothing to do with true free market capitalism) has caused untold damage in all of its member states, as well as destroying sovereign national parliamentary democracies.
Face the facts, it's EU itself that's paving the way for the destruction of Europe, through heavy handed undemocratic means, its socialism (meaning entitlement programs, bloated bureaucracy and welfare corporatism) and disdain for the rights of the individual. KGS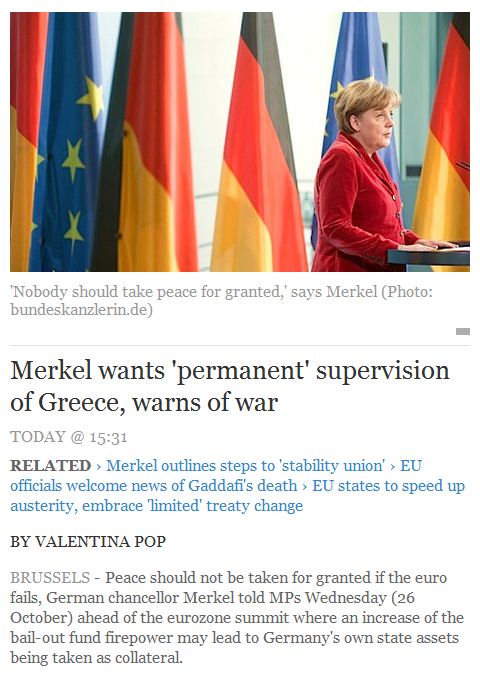 More here.