Muslim on Muslim violence.
VLAD:"Multiculturalism: Everywhere in the world you go, gangs of Muslims riot, attack things and burn stuff chanting the same two words."
The demonstrators tried to go to Sloterkade, where the Kurdish centre is located. When the riots started, the demonstrators came to blows with the police and smashed in car windshields and the Kurdish cultural center was damaged. There are several injured, onlookers. The neighborhood is sealed now by police.
Protesters threw stones and beat police with sticks. There are many rumors that shots were fired during the riots.
The protest earlier today was directed against "terrorism", and in particular the Kurdish separatist PKK.
UPDATE:  Vlad informs the TT that the Turkish demonstrators belonging to the Grey Wolves Neo-Fascist movement were present (Vlad Tepes opinion is that it's a Grey Wolves initiative) at the demonstrations where they attacked Kurds. This is a big development, with perhaps (me thinks more than likely) the nod from the Turkish government. KGS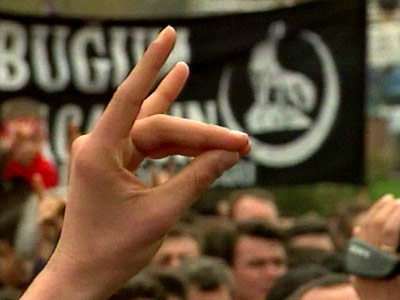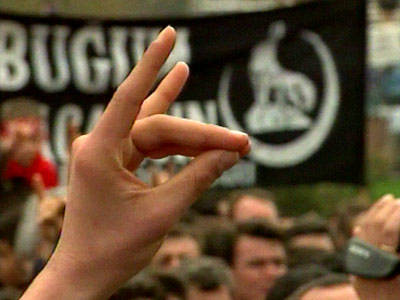 It seems yesterday's attack on Kurds in Holland was part of a Europe wide coordinated effort by Turks, part of the 'Gray Wolves' movement (you can tell my the hand sign salute many are doing in all of the videos) and Kurdish associated buildings, shops and or businesses were attacked by Turks in all locations.
Isn't it a grand idea to include Turkey in the EU and drop all requirements for passports etc? The video above is from Stuttgart. Below, from Saint-Étienne in France. Both of these were found at Islam Vs. Europe. It is important to note the mix of 'Allahu Ackbar's and the fascist chants and signs from the Turks. The Grey Wolves are worth a moment to look up.
I am reliably informed that they also smashed up a Kurdish shop in Saint-Etienne in France after this protest march.