Just like this poor soul in the picture below.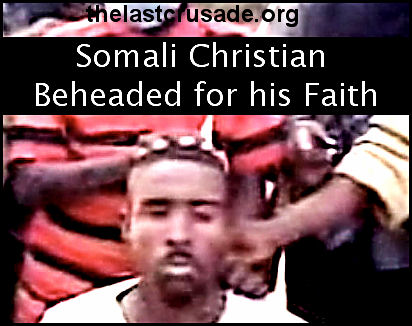 Islamic Extremists in Somalia Behead 17-year-old Christian
NAIROBI, Kenya (CDN) — Militants from the Islamic extremist al Shabaab beheaded a 17-year-old Somali Christian near Mogadishu last month, a journalist in the Somali capital told Compass.
The militants, who have vowed to rid Somalia of Christianity, killed Guled Jama Muktar on Sept. 25 in his home near Deynile, about 20 kilometers (12 miles) from Mogadishu. The Islamic extremist group had been monitoring his family since the Christians arrived in Somalia from Kenya in 2008, said the source in Mogadishu, who requested anonymity.
The Islamic militants, who are fighting the transitional government for control of the country, knew from their observations of the family that they were Christians, the source said.
"I personally know this family as Christians who used to have secret Bible meetings in their house," he said.
Based on talks with the boy's parents and their neighbors, the source said al Shabaab members arrived at Muktar's home at 6 a.m., when his parents, whose names are withheld for security reasons, were already at work at their retail space at the Hamarweyne market on the outskirts of Mogadishu.
The extremists found Muktar as he was preparing to go to school, he said.
"The neighbors heard screaming coming from the house, and then it immediately stopped," the source said. "After awhile, they saw a white car leaving the homestead."
The neighbors informed the parents, who hurriedly returned home from their market stall. They buried their son's body quickly, fearing the militants would kill them as well, returned to their market space and then fled to an unknown destination, the source said.
"When the incident happened, the parents called to tell me that their son had been killed and that they feared for their lives," the source said. "Since then, I have not heard from them."
On the outskirts of Hudur City in Bakool region in southwestern Somalia, a kidnapped Christian convert from Islam was found decapitated on Sept. 2. Juma Nuradin Kamil was forced into a car by three suspected Islamic extremists from the al Shabaab terrorist group on Aug. 21, area sources said. After members of his community thoroughly combed the area looking for him, at 2 p.m. on Sept. 2 one of them found Kamil's body dumped on a street.
Muslim extremists from al Shabaab, which has ties to al Qaeda, control the area some 400 kilometers (249 miles) from Mogadishu.
A Christian who saw Kamil's body said it bore the marks of an al Shabaab killing, according to a leader in Somalia's underground church who lives in another city.
"It is usual for the al Shabaab to decapitate those they suspect to have embraced the Christian faith, or sympathizers of western ideals," the leader said.