Happily marching themselves and the rest of Europe off the cliff.
The Greeks do not want the austerity bill passed, nope, they instead want Europe to bail them out with no strings attached so they continue on as before, enjoying their socialist paradise at other people's expense. KGS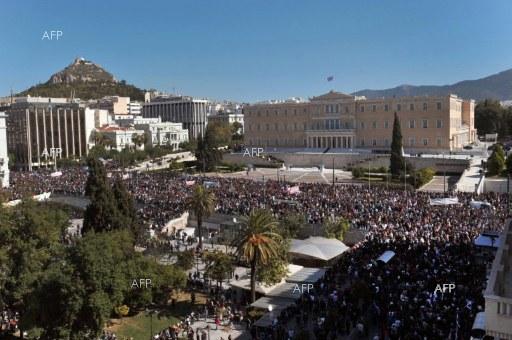 Massive strike shuts down Greece ahead of austerity vote
Greece's unions have launched a massive general strike a day before a vote on further austerity measures. Public services, flights, shops and schools have all been affected, as lawmakers debate the deep cuts.
In the midst of a massive protest that coincides with a general strike in Greece, protesters clashed with police in front of the Greek parliament building in Athens on Wednesday. Witnesses reported seeing stones, Molotov cocktails, and eggs hurled at riot police, while police responded by launching tear gas canisters into the crowd. There have also been reports of police being bombarded by firebombs in Thessaloniki.
For the most part, however, the protests in Greece have remained peaceful, with reports indicating that at least 70,000 people gathered in Athens alone. The protests are part of a major 48-hour strike led by Greek unions that began on Wednesday. One newspaper has called it the "mother of all strikes." The two-day action follows smaller strikes, primarily in the public sector, on Monday and Tuesday. The demonstrations were arranged to coincide with the buildup to a parliamentary debate and vote on further austerity measures.