The Turks haven't any problem with using force when they're the victims of terrorism.
Please do take notice folks, that the Turks act with impunity, the international media couldn't care less what people were killed in the Turkish attack in northern Iraq. If this was Israel acting, the headlines of every paper would be flooded with nothing but. KGS
NOTE: Please do note that the ANSAmed report describes the PKK attackers as terrorists, no Palestinian murderer would ever be described as such. Pictured below (left) is the head of the Organization of the Islamic cooperation, Ekmeleddin Ihsanoglu, the same person that the TT confronted in Helsinki in 2008.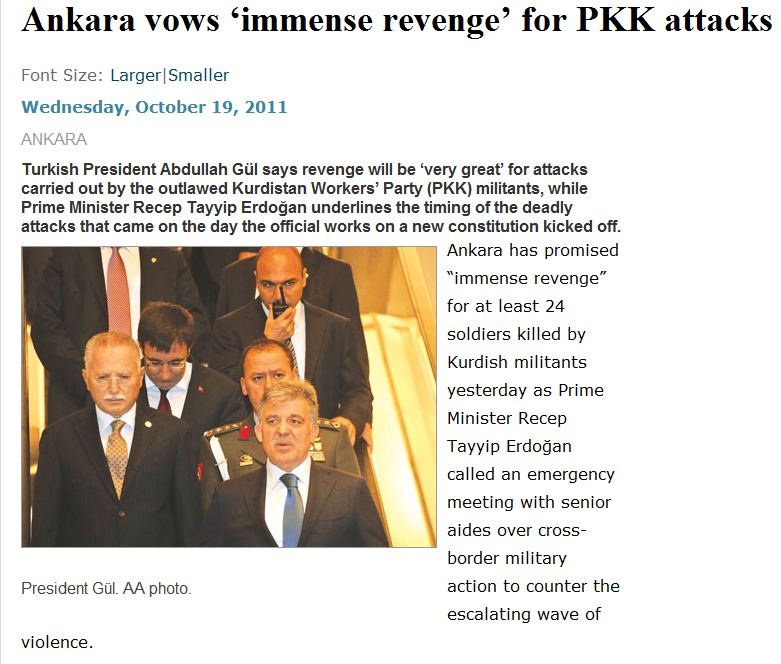 ANSAMED:
Turkey: PKK attack, 26 dead; Gul promises vengeance
(ANSAmed) – ANKARA – The Kurdistan Workers' Party (PKK) unleashed an attack of nearly unprecedented proportions, killing and injuring Turkish soldiers. And Turkish President, Abdullah Gul, responding immediately with a series of air strikes in Iraq, vowed a "great vengeance", while Premier Recep Tayyip Erdogan warned: "We will never back down against any attack." In one of the most violent attacks in the last 20 years in Turkey, last night Kurdish terrorists of the PKK killed at least 26 Turkish soldiers in the southeast of the country on the Iraqi border, also causing about 20 injuries, according to preliminary figures.
Ankara reacted with bombardments in Iraqi territory, where units were sent to hunt down the terrorists. The Turkish media, citing several sources, reports that "simultaneous attacks" were conducted for several hours on 8 army and police buildings in the mountainous province of Hakkari. Nearly 1000 members of Turkish special forces accompanied by 2 helicopters were sent after the attackers while they were returning to their bases. The troops entered at least 4 kilometres into Iraqi territory, crossing the border at 2 points.