Europe continues to circle the drain.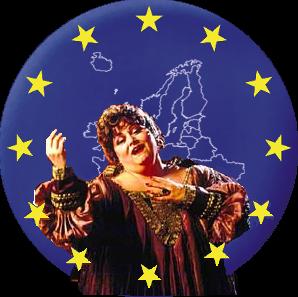 Fat lady seen singing
Portugal sees it's citizens (actually subjects like the rest of us in Europe) rejecting badly needed austerity measures -as are currently the Greeks- as the facts come in that it will fail to meet its deficit target for 2011. But not to fear, Finland's Olli Rehn is still optimistic.
Rehn is an EU bureaucrat hack that should be in an orange jumpsuit along with the other criminals for hoisting this EU economic bail out scam upon the backs of the average taxpayer due to his (and his fellow colleagues) EU ultra-nationalism. KGS
EU Economic Commissioner Olli Rehn said Tuesday that Portugal may not meet the deficit target demanded by creditors for 2011 but remained optimistic about next year's budget programme. Rehn spoke to Portuguese radio a day after the centre-right government submitted its 2012 budget to parliament, with Finance Minister Vitor Gaspar outlining tougher austerity measures than those agreed as part of the bailout deal in a bid to get the country's finances back on track.