THE NEW DEMOCRATIC EGYPT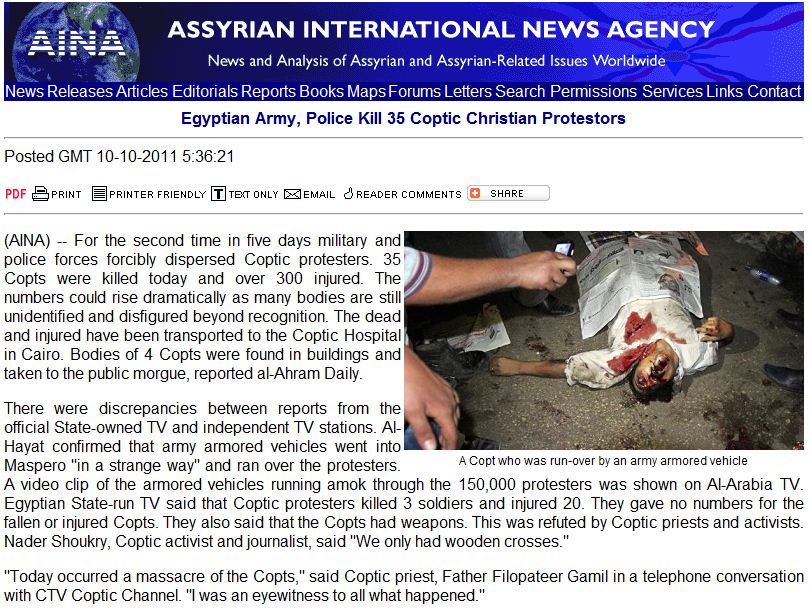 According to witnesses, the army forces were waiting for the Copic rally to arrive at Maspero, near the state television building. "They arranged a trap for us," said Father Filopateer. "As soon as we arrived they surrounded us and started shooting live ammunition randomly at us. Then the armored vehicles arrived and ran over protesters."
Father Filopateer said he saw army police and affiliated thugs torching police cars, to later blame it on the Copts. He believes that the assault on the Copt was preplanned.
Copts announced a few days ago that they would stage a rally to protest the torching of the church in the village of Elmarinab in Edfu, Aswan (AINA 10-1-2011), as well as the brutal attack on the Coptic rally in Maspiro on October 4 (AINA 10-9-2011). Rallies were to be staged in Cairo, Aswan, Minya, Beni-Suef, Assiut, Suez and Alexandria.
"When we announced this peaceful rally we made it understood that it will be from 5-8pm and no sit-in and no blocking of traffic," said Ihab Aziz, Coptic-American activist, who was one of the organizers.
Aziz said that the procession started today at the Christian populated district of Shubra and went to Maspero, in front of the TV building, on the river Nile. On their way, some Muslims fired live ammunition over their heads to terrorize them and some bricks were hurled at them. By the time they arrived to Maspero there were nearly 150,000 protesters. "The army and police were waiting for us about 200 meters away from the Maspero TV building," said Aziz. "They started firing at us before two army armored vehicles came at great speed and drove into the crowds, going backwards and forwards, mowing people under their wheels." He said he saw at least 20 dead Copts around him.
"The most horrible scene was when one of the vehicles ran over a Copt's head, causing his brain to explode and blood was all over the place," recalled Aziz. he held out his hand, showing two bullets in his palm. "We got a clear message today that we are no first class citizens."
The same description of events was confirmed by Nader Shoukry. He said that when the Copts were trapped by the army forces, some threw themselves in the Nile and some just fainted seeing other people being run-over in front of their eyes. Copts ran to hide in the neighboring buildings, but the police dragged them out and assaulted them.
Dr. Naguib Gabriel, who was at the procession, was shot in the leg.
Michael Munier, head of El Hayat (Life) Party, said that what happened to the Copts today was a massacre. He asked why do the authorities kill the Copts who were protesting peacefully for their rights, while at the same time when Salafists blocked the trains in Qena for 10 days protesting against a Copt being nominated for governor of Qena, no one touched them?