No morals whatsoever……..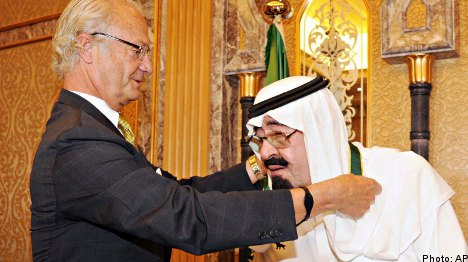 King slammed over award to Saudi monarch
Published: 4 Oct 11 08:45 CET |
Sweden's King Carl XVI Gustaf has kicked up a storm of controversy after giving a medal to Saudi Arabia's King Abdullah during a recent visit to the country.
Last Friday, the the Swedish king gave his Saudi counterpart the Wolf Bronze award, given by the World Scout Committee to acknowledge "outstanding service by an individual to the World Scout Movement".
King Carl XVI Gustaf serves as the organisation's honourary chair.
According to the Asian Tribune news website, the Saudi King also welcomed Carl XVI Gustaf in his private residence in al-Janadriyah.
"It's betrays a complete lack of judgment to, at a time when people in the region are demanding democracy, give a medal to the region's foremost dictators," the Left Party's Hans Linde told the Expressen newspaper.
Social Democratic foreign policy spokesperson Urban Ahlin also found fault with the king's actions.
"It's extremely bad timing to travel there and honour the Saudi king. It's a bad signal to the people fighting for democracy and freedom," Ahlin told TV4.