Put a fork in it, this goose is cooked.
Just yesterday in the Finnish news it was reported that the new Greek budget falls way short of EU requirements for upcoming loans. There is no way for the Greeks to get their house into order other than leaving the Euro, and printing a lot of Drachmae to cause inflation. The Greeks are unwilling to shrink the size of its government due to the corruptive power of its unions, and that's just for starters. So it's irrelevant that the majority favor the Euro, because they also favor the existing status quo as well.  KGS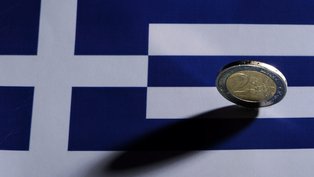 Greece: 2 out of 3 Greeks believe insolvency inevitable
(ANSAmed) – ATHENS – Over two thirds of Greeks (67.3%) believe that Greece will not manage to stave off insolvency. This was shown in a quick poll conducted yesterday evening by Kapa Research immediately after the announcement of the latest austerity measures by the government, including the go-ahead for the placing of 30,000 state employees on the redundancy fund, who in a year are to be laid off.
The poll, carried out on behalf of the weekly To Vima (The Tribune), also shows that while two out of three Greeks are pessimistic about their country's future, 23.3% instead believe that Greece will manage to exit the crisis and 9.4% did not express an opinion. Moreover, 70.5% of Greeks also say they are in favour of keeping the country in the eurozone, compared with the 19.7% who would prefer to go back to the drachma.
Were Greece not to manage to avoid insolvency, 62.4% say they would prefer a controlled insolvency while remaining in the eurozone, 15.5% insolvency while remaining in the eurozone and the same percentage (15.5%) total insolvency with an exit from the eurozone. In the eyes of 75.3% of those questioned, the latest tax on real estate is "a mistake", while 20.9% consider it "unjust but necessary".
Agreeing with the reform calling for restructuring of the public sector and mergers of state agencies are 90.7%, while 83% back the setting up of a single office tasked exclusively with the payment of state employee salaries, According to 81% of Greeks, structural reforms, privatization's and the liberalisation of closed professions must be brought in immediately.