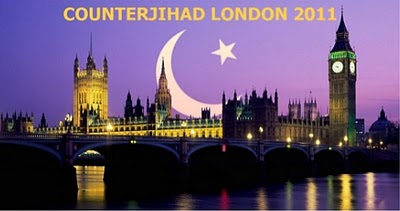 The Baron from Gates of Vienna published a write-up of events surrounding the recent convening of the 5th Counterjihad conference in which the Tundra Tabloids participated. The conference itself went off amazingly well, meeting each other (some for the very first time) is always a pleasurable experience as well as the roundtable discussions on agenda and implementation.
Though it may not appear so on the surface, there are however a lot of amazing things happening below it that are meant to turn the tide of Islamization, and bring us back from the edge of  our own self imposed destruction. Here is a just an excerpt from the Baron's post, which explains some of the happenings in London last week. KGS
Slouching Towards London
[…]
On the morning of Saturday September 24, a Counterjihad leadership meeting convened in central London. A number of people associated withICLA were present, including Paul Weston, Aeneas, Gaia, Elisabeth Sabaditsch-Wolff, KGS of Tundra Tabloids, Henrik Ræder Clausen ofEurope News (English), Liz of Europe News (Deutsch), and other activists from North America and Western Europe. There were representatives from Austria, Canada, Denmark, Finland, France, Germany, Italy, Norway, Sweden, the UK, and the USA.
The importance of the meeting was underscored by the presence of several leaders of the English Defence League. Tommy Robinson, Kevin Carroll, and Jack Smith were among those who conferred for the first time with a cross-section of the European Counterjihad.
The most important topic of discussion concerned the current political situation in Britain. The unprecedented repression directed at the EDL and other dissidents demonstrates that the authorities are frightened by mass opposition to Islamization and sharia, and are determined to use any means to suppress dissent.