This is mind you, the supposed "moderate" muslim state of Indonesia. We have to face the facts, the everywhere around the globe Islam is on the war path. There is no getting around that inconvenient truth. KGS
H/T: By Your Leave
Suicide bombing at Indonesian church injures 22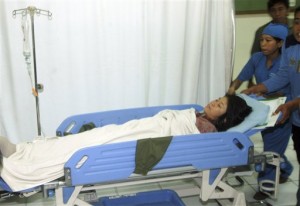 A suicide bomber blew himself up inside an Indonesian church as hundreds of worshippers were filing out after the Sunday service, injuring at least 22 people, police said.
The bomber's mangled body lay at the entrance of the Tenth Bethel Gospel Church. Around him, screaming people were splattered in blood.
Police Chief Gen. Timur Pradopo said the low-intensity device appeared to be attached to the man's stomach.
"We are now waiting for DNA test results to confirm his identity," Pradopo said. "We hope to reveal it soon."
A woman working at an Internet cafe near the church in the Central Java town of Solo said the man had visited her shop an hour before the explosion and browsed websites about al-Qaida and a local Islamist group.
He left a bag behind containing a copy of the Quran, a mask and a cellphone charger, Rina Ristriningsih told The Associated Press. She said all of the items had been confiscated by police.
Indonesia, a predominantly Muslim nation of 237 million, has been hit by a string of suicide bombings blamed on the al-Qaida-linked network Jemaah Islamiyah and its offshoots since 2002, when a strike on two Bali nightclubs killed 202 people, most of them foreign tourists.
Subsequent attacks targeting restaurants and hotels have been far less deadly, however, and the last occurred more than two years ago, thanks in large to a security crackdown that led to the arrests and convictions of dozens of suspects.