Whatever your opinion is about bullfighting, the end of a sport 700 years old is nothing to be clapping about. Besides, the day when dumb animals receive 'rights' -and by default elevated to a parallel status with human beings- is the day humanity ceases to be seen an unique creation. At least that's path being followed presently. It's the gray zone Vlad talks about. KGS
The last Ole! Bullfighting comes to an end in Catalonia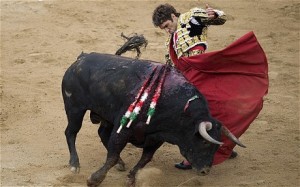 Almost seven hundred years of Catalan bullfighting history ended on Sunday night with the final death blow dealt by its hometown hero.
By Fiona Govan, Barcelona
7:47PM BST 25 Sep 2011
While Jose Tomas, Spain's finest matador, was the undisputed star of the evening, the honour of killing the last bull on Catalan soil fell to torero Serafin Marin, a native of Barcelona.
When Marin delivered the estocada, a half tonne bull dropped to the sand, just as reflections of the sun faded in the matador's suit of light.
On a day when bloodthirsty spectacle was staged for the last time,Spain's leading exponent of the sport took a triumphant bow in his favourite arena.
[…]
Marin, 29, decried the ban.
"The parliament has prohibited bullfights because it is a "Spanish fiesta" — the ultimate symbol of Spanish nationalism," he said an interview ahead of the bullfight. "The ban has nothing to do with animal welfare." Indeed, many have questioned how Catalonia can ban "la corrida" while continuing to allow other bull related cruelties, such as the "correbous", where a bull with flaming torches attached to its horns is chased through the streets.
"They are banning the national fiesta whilst still allowing the Catalan correbous to continue," Tim Parfitt, British author of "A load of Bull" and a Barcelona resident told the Daily Telegraph. "It is hypocrisy."
The owner of La Monumental is demanded millions in compensation over the ban and promoters and breeders from across Spain are planning a class action to sue the Catalan authorities over denying them a means to earn a living.