GO HERMAN GO!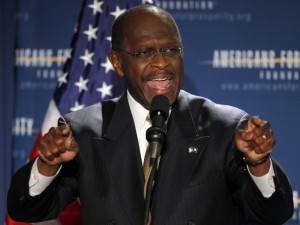 ORLANDO — Former Godfather Pizza CEO Herman Cain won the Presidency 5 straw poll here Saturday, delivering a blow to Texas Gov. Rick Perry's frontrunner status and a victory for a candidate who has struggled to transform his grassroots popularity into strong showings in national polls.
"Tonight's winner is Herman Cain," Florida Gov. Rick Scott announced. "It shows you something, the road to the White House come through Florida, and it pays to spend time here."
He received 37 percent of the more than 2,600 votes cast.
"Thank you to the Republican voters for this incredible honor of being named the winner of the Presidency 5 straw poll in Florida today," Mr. Cain said. "This is a sign of our growing momentum and my candidacy that cannot be ignored. I will continue to share my message of 'common-sense solutions' across this country and look forward to spending more time in Florida, a critical state for both the nomination and the general election."
The two national frontrunners — Mr. Perry and former MassachusettsGov. Mitt Romney — placed second and third. Former PennsylvaniaSen. Rick Santorum, meanwhile, landed in fourth place; Rep. Ron Paulof Texas landed in fifth place; and former House Speaker Newt Gingrich, sixth. Minnesota Rep. Michele Bachmann finished last. (See the poll results here.)
Mr. Cain's victory closed out a three-day Republican powwow at the sprawling Orange County Convention Center, where thousands of activists watched Mr. Perry stumbled through another debate, while some of the oft-overlooked candidates turned in perhaps their best performances yet.
Minutes before the vote, Mr. Cain, Mr. Santorum and Mr. Gingrich each personally addressed the crowd Saturday afternoon, while some of the other candidates sent surrogates to speak on their behalf.