But he's right!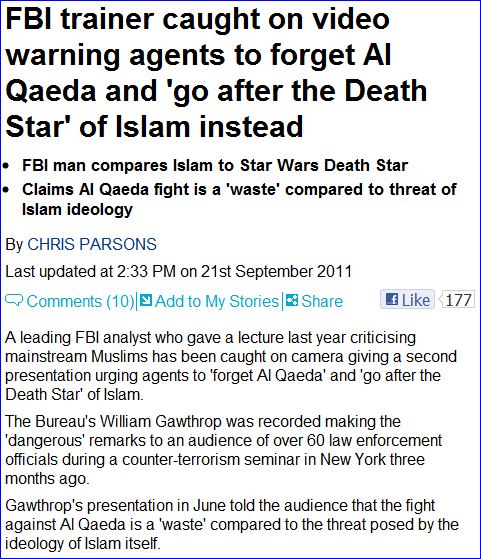 […]
According to Gawthrop, even taking down hostile states like Iran is futile, since 'there are still internal forces that will seek to exert Islamic rule again.'

He added: 'Look at the motive first… if you have an Islamic motivation for actions, group those together.

'So what is this doctrine? It is an expansive doctrine with a single objective: world imperial, controlling the world. 

'That sounds grandiose… but it is a stated objective. The means to do that is jihad. Jihad is rooted in doctrine. There are identifiable rules of engagement and we will discuss that.'
What is there to be upset about unless you believe Islam is "just like any other religion"? The man should be given a raise and promoted as the go to guy in understanding the threat of that desert ideology. Face it folks, they want you to believe that Islam is a race, an ethnicity that one cannot change from, so it must be protected, though the Organization of the Islamic Cooperation (OIC) clearly disregards the phenomenon of Muslim inspired, Islamic texts condoning of Jew hatred, or in other words, anti-Semitism.
They are trying to carve out an elevated status for themselves in which they themselves and their belief system are above criticism. It has to be denounced for what it is, explained in great detail and made available to the general public. Islam as it is, poses a great danger to Western civil society as much as Leftist-statism. Actually the emphasis should be placed upon the latter for it's they who have allowed the current situation to be exist and to metastasize. KGS
H/T: Frank Kitman