Morons.
Why not send the Somalis already living in Sweden to the refugee camps in East Africa to be with their loved ones there? They could include an aid package to the host country to help care for them. The upside to all this is that they would be closer to home and cheaper to help, and maintain, until a time when they could be repatriated to the homeland.
The expenses involved in traveling all the way from Africa to N.Europe eats the funds that could otherwise go to helping more people. It's a matter of math and logistics. People who push for the mass absorption of these refugees, have the exact same mentality of those who called for the banning of DDT, which led to the deaths of tens of millions of Africans.
What the "global warming" scaremongers are doing, amounts to the exact same thing as well, dooming hundreds of millions of people in the developing world to death due to restrictive polices and legislation that will curtail the use of badly needed electricity.  KGS
Asylum agreement to reunite thousands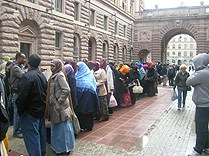 Thousands of fragmented Somali families may be reunited in Sweden as early as July 2012 following the first step forward in the development of a common migration policy between the government and the Green Party (MP). Reunification has been hampered since spring 2010 when Sweden tightened its family immigration law, taking stringent measures toward those that did not have recognized identity documents.
Thousands of Somalis have thus been stranded in crowded refugee camps in east Africa during the current famine. Changes in the law mean that about 4,000 Somalis, many children, will be permitted into Sweden though it is not certain if all will receive a residence permit.