BWHAHAHAHAHA!
Excellent! Finally real incitement to violence hate speech observed and papers served! What makes it all the more interesting is that it comes from the mouth of a Somali imam on Swedish public radio. It couldn't have happened to a more worthy set of players.
Lets see how this all plays out, will it once again be dismissed by the Swedish Chancellor of Justice, who refused to press charges against a mosque that provided audio tapes containing extremely degrading material about Jews (you know, the apes and pigs thing). The then Chancellor, Göran Lambertz, said at the time:
"These statements "should be judged differently and considered to be allowed/legitimate, because they are used by one party in an ongoing deep conflict where battle cries and defamation are contained as everyday elements in the rhetoric around the conflict".
Stay tuned folks for more on this latest expression of love and peace by the so called 'religion of peace' in the former Swedish enclave of Scandinavia. KGS
H/T: By Your Leave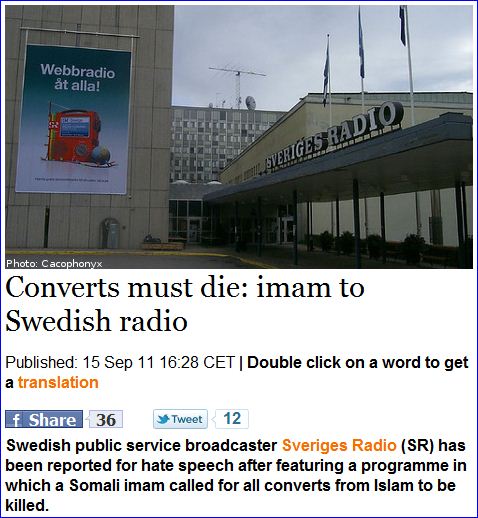 The programme in question was a panel discussion and was broadcast live by SR International's Somali service.

The police report was filed by Erik Johansson, at the Swedish Evangelical Mission (Evangeliska Fosterlands-Stiftelsen – EFS), after friends told him of the imam's words underlining every Muslim's responsibility to kill anyone who leaves Islam.

"I received a call from my Somali friends who had heard the programme. I don't speak the language myself and when they explained to me, I concluded that this wasn't a message which should be on an SR channel," Erik Johansson told The Local on Thursday.

Johansson also contacted Sveriges Radio in order to register his dismay that the item was left available on their website for more than two weeks. Soon after his telephone call the programme was removed from the website.

In a comment to the Christian website Dagen on Tuesday, SR International head Ingemar Löfgren said that he decided to pull the transcript from SR's website pending receipt of an official translation, pointing out that he is responsible for several channels broadcast in languages which he does not speak.

"If an imam calls for other Muslims to kill converts, then we have a journalistic responsibility… If he didn't get any follow up questions then we have failed in our journalistic responsibility," he said.