Great, so the illiberal, backward, Islamowhack-jobs who have Salafists and al-Qaida types in their ranks, are oh so thrilled for Cameron's and Sarkozy's funding their revolution. Sorry folks, there's no clapping from the Tundra Tabloids over their 'victory' funded by the European taxpayer. That said, the only thing worth funding is a hunt and kill mission to get Gaddafi, along the same lines as how Bin-Laden met his end, nothing more. KGS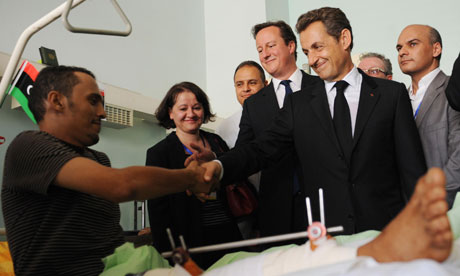 Sarkozy and Cameron in Libya
Heroes for a Day
European leaders are rarely celebrated as heroes, but this is precisely how Nicolas Sarkozy and David Cameron were treated in Tripoli on Thursday. As a reward for their military deployment against Moammar Gadhafi, the president and prime minister received a warm reception. The French appear to have gained the most in Libya.
But the French president may have to defend the selfless dedication of his country against the potential criticism that France acted alone out of strategic calculation to push the military operation through the UN, speculating on Libya's oil riches just as the United States did ahead of their invasion of Iraq. Such suspicions have not been dispelled, because Sarkozy and Cameron obviously wanted to beat Turkish President Recep Tayyip Erdogan to Libya with the quick visit.
The new leaders in Tripoli have made the calculated move of announcing that their Western allies will be favored when contracts are awarded. Both the British and the French hope to recoup the costs of their military operations through lucrative deals for their companies back home.